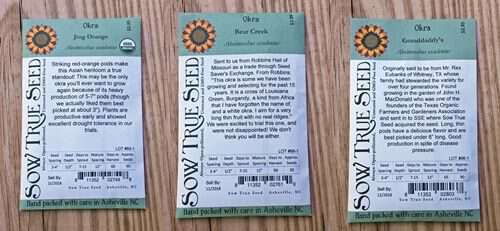 This year Sow True Seed has graciously donated extra okra seed so that I can deputize @ Large Okra Reporters.
Here's the varieties with details from Sow True Seed's website:
Okra – Jing Orange, ORGANIC – Striking red-orange pods make this Asian heirloom a true standout! This may be the only okra you'll ever want to grow again because of its heavy production of 5″ to 7″ pods, (though we actually liked them best picked at about 3″). Plants are productive early and showed excellent drought tolerance in our trials.
Okra – Bear Creek – Sent to us from Robbins Hail of Missouri as a trade through Seed Saver's Exchange. From Robbins: "The okra is some we have been growing and selecting for the last 15 years. It is a cross of Lousiana Green, Burgandy, a kind from Africa that I have forgotten the name of, and a white okra. I aim for a very long thin fruit with no real ridges, but still get some with ridges." We were excited to trial this one, and were not disappointed! We don't think you will be either.
Okra – Granddaddy's – Originally said to be from Mr. Rex Eubanks of Whitney, TX whose family had stewarded the variety for over four generations. Found growing in the garden of John H. MacDonald who was one of the founders of the Texas Organic Farmers and Gardeners Association and sent in to SSE where Sow True Seed acquired the seed. Long, thin pods have a delicious flavor and are best picked under 6" long. Good production in spite of disease pressure.
So what does being a Blind Pig & the Acorn Okra Reporter @ Large mean?
Sow True Seed is always looking for feedback about their seeds. You know things like plant growth, production, pest issues, and most of all taste.
To be an @ large reporter you need to plant the okra seeds, keep track of how they grow, and send your findings and observations to either me or directly to Sow True Seed. If you can snap a few photos along the way for me to share here on the Blind Pig-that would be fantastic too.
If you're interested in being a Blind Pig and The Acorn Okra Reporter @ Large send me an email at [email protected] and let me know. Be sure to include your mailing address and which okra seed you'd like to try the most.
Tipper
Subscribe for FREE and get a daily dose of Appalachia in your inbox