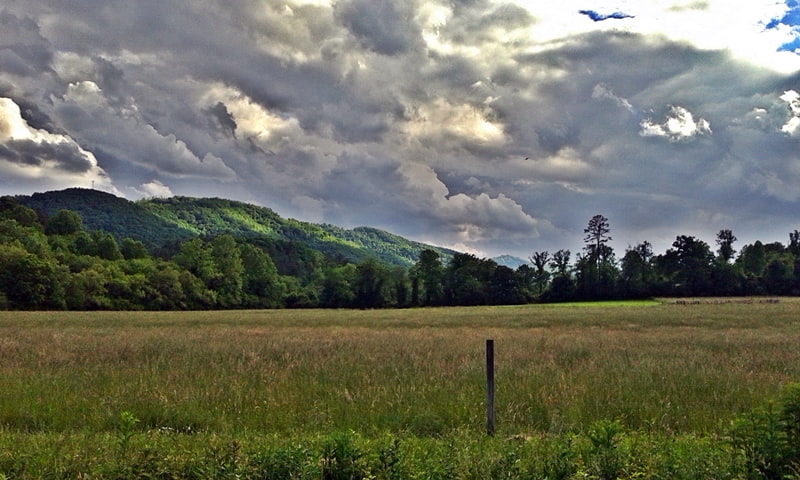 I'm still listening to my usb drive full of jumbled up music. This week I was surprised to hear Pap and Paul do "Uncloudy Day." I had completely forgotten about us filming the song.
As I thought about it I began to wonder if I'd ever shared it on the Blind Pig and The Acorn. A quick look at our Youtube channel told me I probably hadn't because the video wasn't uploaded.
I grew up singing the song in church so I've always been familiar with its cheery lines. A quick google turned up this story from Wikipedia about it's origin.
"Uncloudy Day, also known as Unclouded Day, is a gospel song written by Josiah Kelley Alwood in 1879. Originally popular in church hymnals, it has come to be recorded many times over the years since, including being an early attention-getter for future star act The Staple Singers in 1956, their version serving as an inspiration to a young Bob Dylan, who called it "the most mysterious thing I'd ever heard".
Alwood related a story about the event that inspired the song:
It was a balmy night in August 1879, when returning from a debate in Spring Hill, Ohio, to my home in Morenci, Michigan, about 1:00 a.m. I saw a beautiful rainbow north by northwest against a dense black nimbus cloud. The sky was all perfectly clear except this dark cloud which covered about forty degrees of the horizon and extended about halfway to the zenith. The phenomenon was entirely new to me and my nerves refreshed by the balmy air and the lovely sight. Old Morpheus was playing his sweetest lullaby. Another mile of travel, a few moments of time, a fellow of my size was ensconced in sweet home and wrapped in sweet sleep. A first class know-nothing till rosy-sweet morning was wide over the fields.
To awake and look abroad and remember the night was to be filled with sweet melody. A while at the organ brought forth a piece of music now known as "The Unclouded Day." A Day and a half was bestowed on the four stanzas.
— A Rainbow at Midnight and A Song With Morning (1896)"
—-
I have no idea why we didn't upload the video of the song to Youtube and all these years later I have no clue where the video even is. We recorded the song shortly after I started the blog back in 2008.
Click on the link below to hear the song. (You'll need to click on the triangle shape to start the song-then click your back button to come back to this page.)
Since I don't have a video of the song, my best bet is the music is made by Paul, Pap, and my nephew Ben. I believe some of the fancy guitar picking is Ben instead of Paul. Maybe one of them will remember and enlighten us.
Tipper
Subscribe for FREE and get a daily dose of Appalachia in your inbox