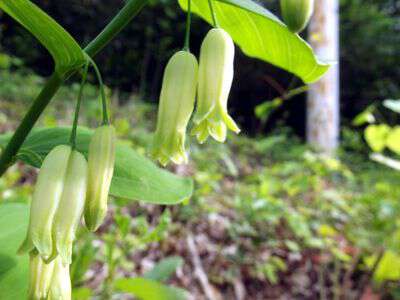 Solomon's Seal
According to the USDA Forest Service's pamphlet Some Useful Plants of the Blue Ridge Mountains, the roots of Solomon's Seal have been used to treat every thing from poison-ivy to hemorrhoids. I don't know about that-but I do know their nodding blooms always make me feel as though a small fairy might peek out from their bell shaped blooms and say Hello to me.
Just above Pap's big garden, is the power pole that services Steve's house.The pole is on a steep bank about 10 feet high. The EMC guys keep the area around it cut back.
Several years ago, I discovered the little cleared area was a dandy place to look for wildflowers. I guess the back drop of thick woods keeps the area just shady enough and the low vegetation allows your eyes to easily see things that are growing. Acutally it isn't that easy-first you have to run/climb up the steep bank and hold on to the edge while you survey the plants-but the view is worth holding onto pine sapplings and digging your toes into red clay.
In winter, when Solomon's Seal dies back, you can see a circular scar on the root stalk. The circular place is said to look like the Seal of Solomon-hence the name.
Does Solomon's Seal grow around your place?
Tipper
Appalachia Through My Eyes – A series of photographs from my life in Southern Appalachia.