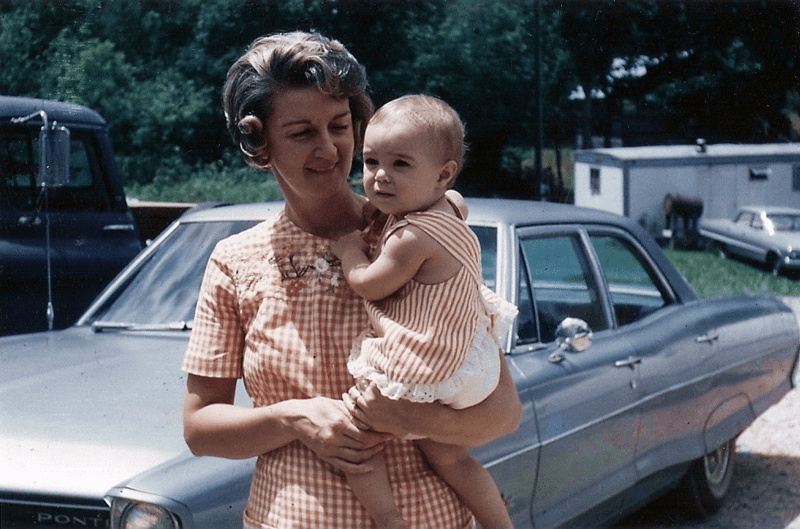 Granny and me – 1972 Wilson Holler
I never realized the worth of my Mountain Momma until I had my girls. Almost immediately a curtain was pulled back and I could see the whole picture of being a mother. I felt like telling her: Oh, now I see what you did Momma.
Of course Mothers provide food, shelter, love, but so many other things I took for granted.
A few examples: I really need that for school tomorrow would you drive all the way back into town for me? I know you cooked super, but would you make me an egg sandwich instead? I know we don't have much money, but I really want that new pair of shoes. I know you're really tired but would you stay up late and make sure my clothes are washed for tomorrow?  I was a spoiled child, so on and on that list would go for me, and at the end of the list my mountain momma always answered "yes".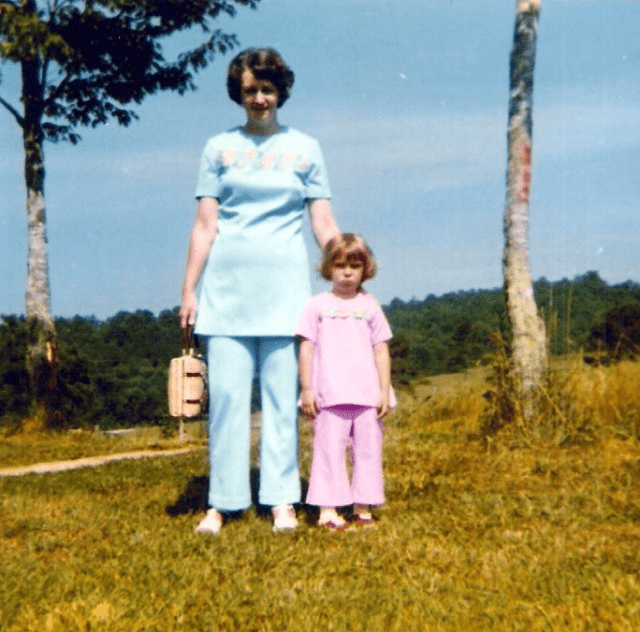 Granny and me in our matching polyester outfits she made – 1974 Sherlocks
When Chatter and Chitter were just learning to talk you could ask them who they were and they would say momma. Pap said "How in the world did you confuse them that bad?" I still have no clue why they thought their names were momma.
It's interesting how people shorten the word mother or use it in different forms. I've always thought it sweet how some older folks use the word mommy when speaking of their mother. My brothers and I use the typical momma. Chitter went through a phase where she called me ma. My Dad and his siblings used the actual word mother and I always thought that was so endearing.
I'm going to leave you with 3 random things about my mountain momma. I hope you'll leave a comment and tell me 3 random things about your mother.
*My mountain momma has a contest with herself each summer. She cans more quarts of green beans than she did the year before, last year's total 98.
*She crotchets so many hats, scarves, ponchos, and throws for her kids and grandkids we've all ran out of room to store them.
*She went without her back porch for over 15 years because there was other things to pay for-mostly my braces. (our back door literally opened to a drop of about 4 feet until she got her porch)
Happy Mother's Day to all!
Tipper
I originally published this post in May of 2008. I wrote it about Granny-who is my Mother.