Today's guest post (poem) was written by Trevis Hicks in honor of his Granny Hicks.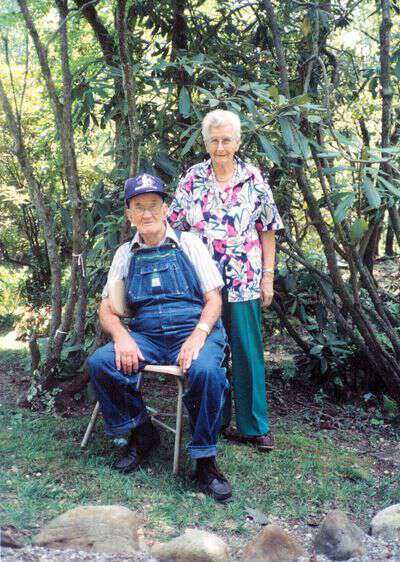 Times Cherished written by Trevis Hicks
I still smell the eggs frying in the pan,
I hear the clock as it strikes seven AM,
I see the red cardinals eating from the feeder.
Everything is still as the pair of black irons
Sitting near the heater.
As the fog burns away I can see the outline of
The square bails of hay lying in the field,
Waiting to be packed away in the barn.
I follow her down the hill to the mailbox, then
Across the road to gather the eggs, then back to
The house to watch her churn the milk.
I watch her pick up her needle and thread and
Watch in amazement as she turns scraps of
Cloth into a wondrous work of art. She works
For hours with the skill of a pro and never
Misses a stitch while she repositions her hold.
She stops to rest and fix me lunch and I stare in
Amazement as the burner heats up.
The smell of the walnuts from the fresh baked
Cake and the sounds of the utensils clanking in
The sink, are the signs that I'm at Granny's house.
As the house gets hot, Granny and I go down
The steps to the basement to do the wash.
I can't wait to see her bottles of all different
Shapes and just start to wonder what they contained.
No matter the chore, no matter the task,
She handles it with ease without a complaint.
I miss the times when I was small but,
The one thing that still remains are the memories
With Granny and all of her trades. And a
Basket full of memories that I will always Cherish.
Thank you, Granny, for all that
You've done, to help mold me and teach me the
Way things are done.
———————
Hope you enjoyed Trevis's memories of Granny Hicks as much as I did. Got memories of your Granny-Mamaw-Grandmother? Please leave a comment I'd love to hear about them.
Be sure to drop back by tomorrow for a Mother's Day Post about Granny.
Tipper