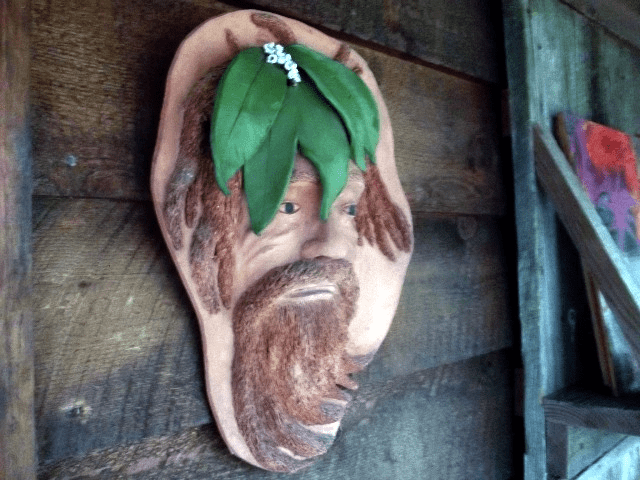 This somber looking man lives on my front porch. He steadfastly gazes at all who enter at the door. Sounds pretty impressive uh? Actually, my door watching man has led a very interesting life.
Several years ago, one of Miss Cindy's closest friends made my man. Right from the start he found out life was full of ups, downs, and surprises. Robin, his creator, hung him in the woods near his house to see how he held up in the weather.
It's easy to see why it happened. I mean who wouldn't look into those eyes and decided they needed him. They wanted him. Heck they just had to have him. Someone stole my door watching man.
Who knows what sights he seen while they had him-who knows if he was treated like a door watching man should be.
Never to be deterred Robin made a new man and hung him in the woods to see how he weathered. Wouldn't you know it whoever took my man decided they liked the 2nd man better. They brought back my door watching man and took the new guy on the block.
It was sometime later I acquired my door watching man and to be honest I wouldn't take no amount of money for him. But when I think of all he's seen take place on my front porch-well I would pay him to tell me his opinion-if he only could.
Tipper
Appalachia Through My Eyes – A series of photographs from my life in Southern Appalachia.