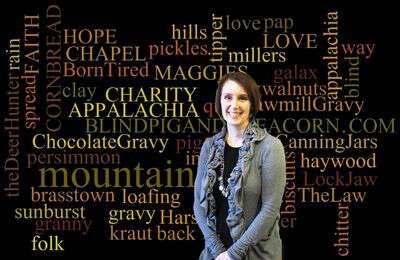 Wow where did 2014 go? It seems only yesterday I was telling you about the goals I had planned for the Blind Pig & the Acorn during the new year of 2014-and now it's all gone and behind us.
There's a pretty intimidating list of things I want to accomplish during this new year of 2015.
I hope to finish the story of W.C. Penland Civil War Solider from Clay County NC. Does that sentence sound familiar? If you said yes-it's because I listed that as one of my Blind Pig & the Acorn goals for 2014. Although I shared many of WC's letters and the history of his family I didn't quite make it to the end of the story.
I have an idea to celebrate Appalachia in an even bigger way and it involves the voices of people like you and me. During 2014 I made significant progress on gathering information and solidifying the basic idea in my mind. I hope to continue shaping and molding my plan during 2015.
2015 is going to be the year of SAYINGS. What kind of sayings-well of course ones from Appalachia! Funny, thoughtful, meaningful, teachable sayings about life-so be on the lookout for the new series of sayings.
I want the music back! I know many of you do too. I still haven't found a good solution to the issue-but I'm still pecking away at the problem.
I'm want to write a cookbook during 2015. I'll keep you posted on that endeavor.
I plan to continue promoting the Blind Pig & the Acorn Etsy Shop during 2015. I'm sending a big THANK YOU to everyone who visited the store for some of their Christmas shopping. Along with mine and Chitter's Etsy Shop I want to promote other artists/crafters during 2015.
I'm excited for this new year of 2015. I believe it will be a banner year for the Blind Pig & the Acorn-and I sure hope each of you stick around for the ride.
Tipper