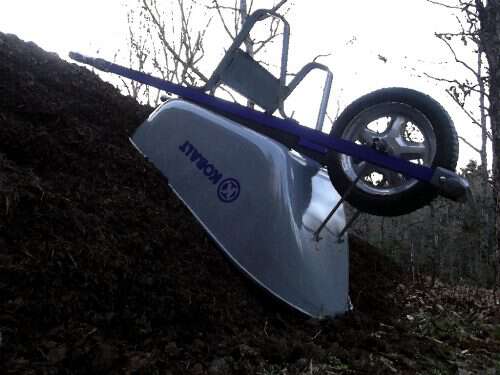 As I pulled up in the yard the other evening I saw something that made me happier than a pig in slop!
Do you ever hear people offering gift buying advice to husbands? You know like "Never ever buy your wife something useful like a microwave or vacuum cleaner-buy her something that makes her feel like a woman who is loved."
The Deer Hunter learned early on-that advice doesn't apply to me. I want to be able to use things! I like nothing better than getting a present or surprise that I actually need. One of my favorite presents from last Christmas was a basket Chitter got me at the dollar store. My potato basket had seen better days-like it should have been thrown away 5 or 6 years ago.
When I unwrapped the basket Chitter screamed "It's for your potatoes!" The girls have also learned I like things I can use.
So thanks to The Deer Hunter-I have a mountain of mushroom compost and a brand new wheelbarrow to use this weekend-which makes me happier than a pig in slop and grin like a mule eating briars.
Got any other happy sayings? Leave a comment!
Tipper
Appalachia Through My Eyes – A series of photographs from my life in Southern Appalachia.