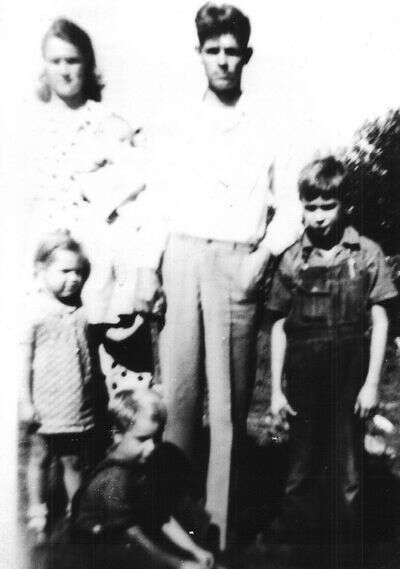 Pap is the boy on the right of the photo in overalls – he's standing with his parents and his siblings
I've been thinking about a story Pap told me.
It was during the month of May and his mother and him were in the garden working. He said it was an unusually cold morning, but they thought the sun would soon warm things up as they worked. His mother built a little fire by the side of the garden where they could warm every once in a while.
As they continued to work it suddenly started snowing. It really came down hard with flakes as big as silver dollars and in just a little bit the ground was white with snow. Pap said in those days any time something unusual happened folks wondered if it was a sign that the end of time had come. As they stood and stared at the snow it quickly stopped and before he knew it the white ground had melted.
Pap's story was such an unusual one that I decided I'd try to google around and see if I could find any documentation about the May snow. I never thought to ask Pap how old he was or what year the snow came, so I was really going on a wild goose chase. The closest thing I found was a newspaper from 1948 that talked about the strange weather and the killing frosts that came to the mountains of North Carolina from May 8 through May 11 of the previous year, 1947. Pap would have been 9 years old. You can read the paper by going here and clicking on page 3 on the right side under thumbnails.
In the early 90s when I worked at Lake Logan in Haywood County NC I experienced a May snow. I was working the morning shift that day and had to be at work at 6:30 a.m. When it was good and daylight it started to snow and in no time flat there was well over 6 inches on the ground. It was a wet heavy snow and you could hear trees cracking from the weight all over the place. The Deer Hunter came to get me, but convinced me I could drive home following him and I did. Like the snow from Pap's story the 6 inches was gone by night fall.
Tipper