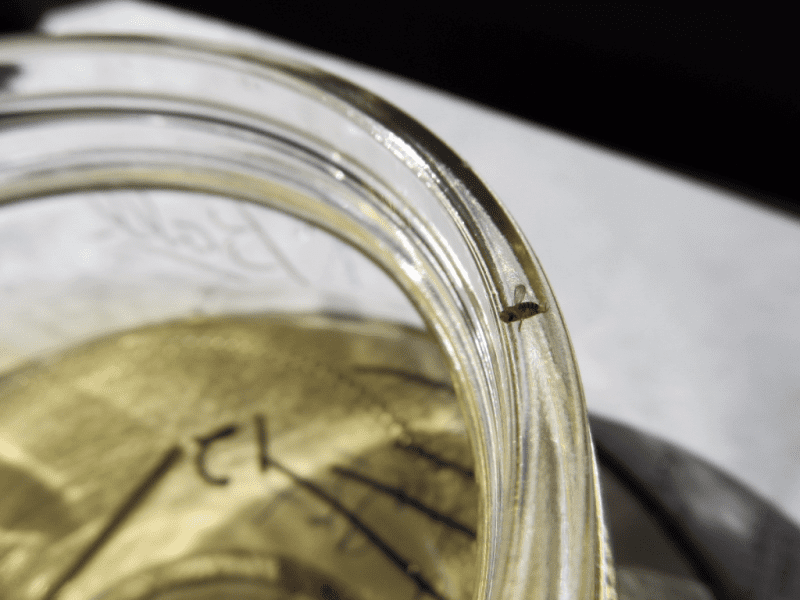 I've been having an on going fight with fruit flies. Last week I had to leave town for a few days for work, before I left I set traps for the little boogers in almost every room of the house.
When I got back late Friday afternoon the traps were full…but the house was still full too!
I set to work trying to get rid of every piece of produce I had that was out in the open. I diced peppers and popped them in the freezer; I roasted peppers and popped them in the freezer; I made 2 runs of pear jelly; and then I locked the apples and bananas in the microwave.
THEN I cleaned house and stood in every room with the vacuum running and sucked up as many of the little bitty things as I could. The result: I still have fruit flies.
The Deer Hunter said "Everybody has them this time of the year both the guys at work said their houses were full of them too." That did nothing to make me feel better.
Then I saw a post from a friend on facebook-she was begging for advice on how to get rid of her fruit flies. Three other friends chimed in that they have them too. That made me feel some better.
I am a fruit fly hunter. I have traps filled with apple cider vinegar covered by lids of hole poked plastic-wrap; I have traps of apple cider vinegar with a drop of dish detergent with no plastic-wrap lids; I have a vacuum cleaner; and I have a wet paper towel that is my stalking weapon.
Tipper
Appalachia Through My Eyes – A series of photographs from my life in Southern Appalachia.