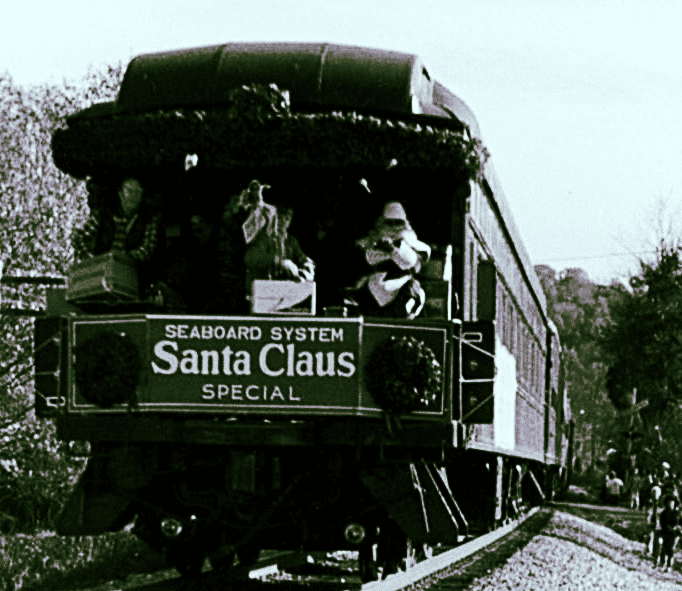 Since 1943 a train loaded with toys, candy, and Santa has made it way from Kentucky through Virgina and ended it's journey in Kingsport, Tennessee.
The Santa Special was started as a way to give a bit of Christmas to impoverished children who lived along the route as well as thank folks for shopping in Kingsport. In recent years celebrities have tagged along to help spread Christmas Cheer.
The Santa Train has become a tradition for many families-it's not unusual for several generations of the same family to take part in the tradition. Since the Santa Train makes it's run the weekend before Thanksgiving it's a natural start to the Christmas Season for many.
I'd like to share an essay about the Santa Train, written by David Templeton.
The Santa Train; A Very Special Part of America, Then and Now
Over the many years that Santa has come down through the mountains on the Santa Train, thousands of people, young and old, have been there as Santa waved and wished them a Merry Christmas.  My thoughts tell me first that many were the poor people of Appalachia, come to enjoy just a bit of happiness in a world racked with abject poverty; and, my thoughts go back to us, a poor family with little to enjoy, materially, at Christmastime, save the candy and the toys and prizes that Santa threw us from his train.
There can be no doubt that the founders of the Train had those impoverished children in mind, maybe foremost in their minds.  The founders, however, also saw a broader mission: To be the  harbinger of a spirit that would prevail among all, young and old, poor and affluent, through the month-long season; a spirit of sharing and caring and of peace on Earth, Goodwill to men.
Oh yes, that spirit would foment good sales for merchants along the railroad's path through villages and towns, as the spirit of Christmas and giving fostered a gleeful purchasing spree all up and down the line.
Yet, we remember, don't we? Not the commercial side of the moment and not what we gave or received on any of those many Christmas mornings.  When we hear that the train is going to make another run, we remember that as those of us who got to rush out behind the train and gather the bounty in Santa's wake are blessed with a very special memory of a time most Americans have only read about but never, ever got to enjoy firsthand.
Thank goodness that the special time goes on and the Train still runs and Santa's helpers still care.
——————-
I hope you enjoyed David's thoughts and memories about the Santa Train.
Tipper