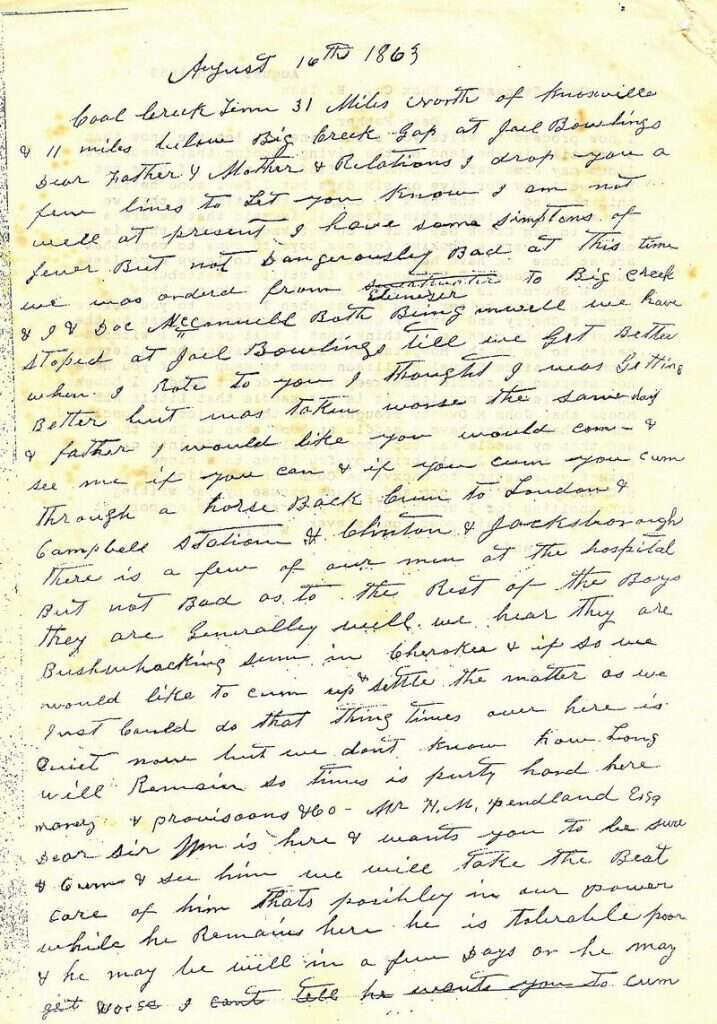 Since today is Memorial Day-I thought it fitting that we check back in with W.C. Penland.
March 23 (on envelope) 1863
Headquarters 65th N C Regt
Zollicoffer Sulivan County East Tenn
Dear Mother
I seat myself this pleasant morning to write you a few lines to inform you that I am well    hoping that these few lines will come safe to hand and find you and all of the friends enjoying good health    I have nothing of much interest to write to you    I can say to you that the health of our company is very good at the present time    Uncle Wyly is still here but I do not know how long he will stay here    his health is very good at the present    he looks as well as I ever saw him in my life    James crawford is a mending fast lately    I think that he will soon be able for duty    John Sherman is at Jonesboro to forward commissaries to the Regt    He was well a few days ago    I believe it was day before yesterday that some of our boys were down there    I want you to have me that coat made and send it to me as soon as you can for my coat is nearly worn out and Jeans is so very high in this part of the country that I do not want to pay it    nice gray Jeans is worth ten dollars per pound in Jonesboro    if you can not have it made and have a chance to send the Jeans I can get it made very easy if there is anybody a comming that will bring the Jeans with them whether you have a chance to have it made or not    send it to me for fear you do not have another chance to send it for I do not think that there will be much passing from here now for some time    so no more on that subject    James Crawford got a letter from John Crawford last week he is well    I believe that I have nothing more to write that would interest you    I will bring my few lines to a close so no more at present but remains your affectionate son as ever to his mother
William C Penland 
I noticed he sent this letter to his Mother-the last one was to his Father. 2 other things jumped out at me-his talk of the Jeans-still needing a coat and my favorite part:  so no more at present but remains your affectionate son as ever to his mother
What about you-what caught your eye in this letter?
Tipper