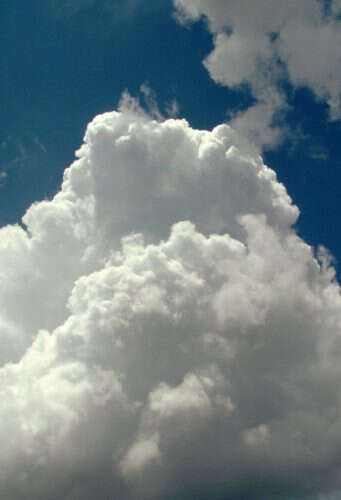 We've been having thunderstorms of the evening for the last few days. Today's was a good one. Usually the worst storms seem to hit the lower section of our county-and frequently we miss out on the worst aspects of thunder storms. A little after 1:00 I started hearing thunder-by the time I needed to leave to pick up the girls-I could tell Murphy was getting a real storm-it was barely sprinkling at my house. By the time I pulled onto the main highway the rain started in heavy and soon turned to hail. This storm was mostly made up of heavy rain and unbelievable lightning-everywhere I looked I could see it parting the sky.
As I drove into Murphy, the rain eased up-but the lightning kept up it's frantic pace. As I pulled around the back of the school to take my usual place in the parent pick up line-I see 2 people dumping trash in the dumpster behind the school. I'm thinking who is crazy enough to be out in this storm? As I got closer I was horrified to see one of them was my daughter! I rolled down the window and shouted for them to get back in the school! Turns out they were trying to do a good deed and help someone who wasn't feeling well-so it was hard for me to be mad about that-but Chatter did get a speech on the dangers of lightning on the ride home. After I settled down a bit-I thought to myself-I sound like Granny. The thought reminded me of a post I did the year I first started blogging-it fit my frantic storm filled afternoon so well-I thought I'd share it with you again:
Lightning Strikes and Granny
When my brothers and I were growing up, Granny had all kinds of admonitions about storms, specifically about lightning.
According to Granny you can't take a shower, talk on the phone or run water when it is lightning. You also can't flush the potty or stand by a window.
And, at all costs, Granny said you should have shoes on-real shoes-even in the house-because if you don't it will draw lightning.
Granny had so many warnings about lightning that my younger brother and I started making up our own. Like-don't stand on one foot and open the frig it will attract lightning.
Or don't cross your right arm over your left arm while crossing your left leg over your right leg because it will attract lightning (obnoxious I know).
Silly or not Granny lives by her "lightning rules" and if you happen to be with her in a storm she'll make sure you do too.
I was trying to think of folklore relating to thunderstorms-all I came up with was:
~Thunder-is the noise God makes as he rearranges his furniture
~If it's raining when the Sun is shinning-it means the Devil is beating his wife.
Got any old wives tales about storms? Did anyone ever admonition you about lightning the way Granny did us?
Tipper