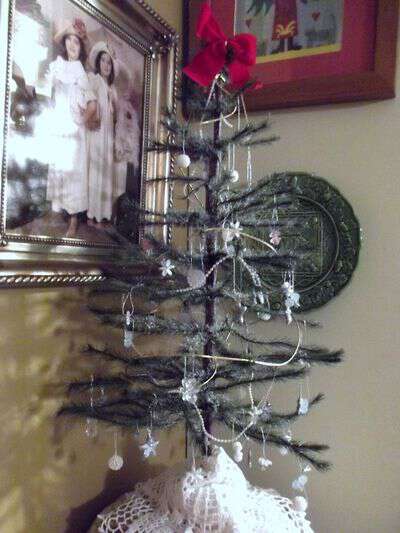 One of my small kitchen Christmas trees
As I write this I'm sitting in a school hallway. Classes are winding down before Christmas break and the school seems unusually quiet. But 7:00pm will bring back the noise with students and parents streaming into the gym to hear and see the Christmas festivities.
I hear the hum of the vending machines and see the darkness take over the parking lot and think about all the things I want to do before Christmas day arrives. If you celebrate Christmas in a big way the days of December can feel hurried and harried.
We never spent tons of money at Christmas-but once the economic downturn hit we spent even less. And we realized Christmas was still Christmas without the extra spending-in fact it seemed to mean more to us.
One of the gifts I remember most from those stark years came from Paul. He gave me a hundred dollar bill. Now that might make you say "WOW a hundred bucks!" But he didn't give it to me so I could go buy myself a nice gift I -he gave it to me so I could buy groceries.
I'm thankful times aren't as hard now-I'm glad I can buy the girls a little something to make their eyes sparkle, but most of all I'm thankful I can buy groceries.
I know a family who used to gather together every fall to craft. They would make a variety of items-and then they gave the things they made to each other for Christmas. I always thought that was especially nice.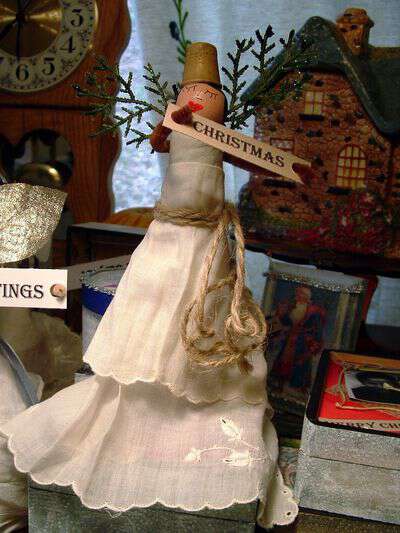 One of the things I love most about the internet (besides all of you) is being able to Christmas shop in my pjs. I'm a big Ebay buyer. And this year I've been pleasantly surprised by the deals you can find on Etsy. You'd be amazed how many of your local artists/crafts folks have an Etsy Store.
I'll share a few Christmas gift ideas with you before I leave and I hope you'll leave a few for me as well.
*Magcloud is a website where you can make books and magazines. A few years ago-I made magazines for Granny and Pap. It didn't take very long after I got started-and the end result cost less than 10 bucks including shipping and handling. It did take some time to fiddle around with the layout but when I seen their faces, I knew it was time well spent. I think a magazine full of recipes would make a dandy gift. MagCloud is print on demand-so once you finish a project-you can reorder later if you want too-or never if you don't.
*Speaking of MagCloud-my book Appalachia Through My Eyes is still available through their website and would make a great gift for a lover of Appalachia.
*Got men or boys on your list? Or a lady who likes to turkey hunt? Jim Casada has a new turkey hunting book out-you can go to his website for the details-and even read a portion of the book.
*Etsy store Peach Street Bridge has some beautiful creations-there'll be 2 of them in the girls stockings this year-and you cannot beat the prices!
*You probably remember a variation of this idea from the years your children or grandchildren were in school-give a gift of your time. A piece of paper with the words "4 Bathroom Cleanings" might not seem like much of a gift on Christmas morning-but come late January when you're exhausted and dreading cleaning the goop off the sink and scrubbing the tub-it'll seem like the best present ever.
*Find a photo from Christmas past-and write a story/memory about it. You don't have to be a bonified writer to do this-anyone can jot down a few lines. Give the photo and the story to a child-a brother-a sister-a neice-a nephew-a friend. Doesn't matter who-I guarantee they'll love it. And as the years go by-they'll love it even more.
Tipper