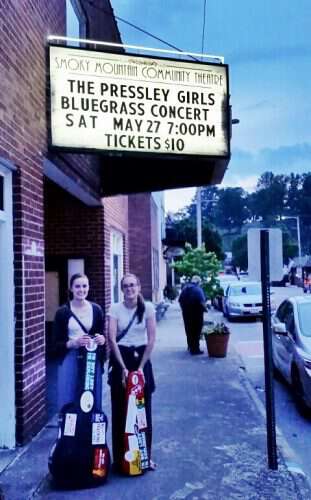 The old standard I'll Fly Away was written by Albert E. Brumley aka gospel song writer extraordinaire. According to the Brumley website, I'll Fly Away was the first song Brumley actually sold and one of the songs he is most famous for. The song's steady popularity over the years since it was written, has to be a source of pride for his family.
The girls have been singing the song for years, it's become one of their most requested songs at performances. Chitter first learned to play it on the piano and it was the first song they learned to sing harmony on.
Harmony is a must for the type of music we perform, but harmony isn't an easy thing to master. Pap and Paul were old pros, but trying to explain what they were so good at to two silly girls was a different story.
One day Chitter and Chatter surprised us all when we overheard them singing harmony on I'll Fly Away. Almost in unison we said "When did you learn to do that?" To which Chatter replied "Oh I've been able to do that for a while now." Of course we asked her why in the world haven't you been doing it?
For today's pickin' and grinnin' session I'm sharing a video of the girls doing I'll Fly Away in the greenhouse. If you listen close you can hear the pit-pat of rain hitting the plastic. Just after they finished the song a frog strangler came down and we were stranded in the greenhouse with our instruments until it was over.
I hope you enjoyed the song!
Tipper