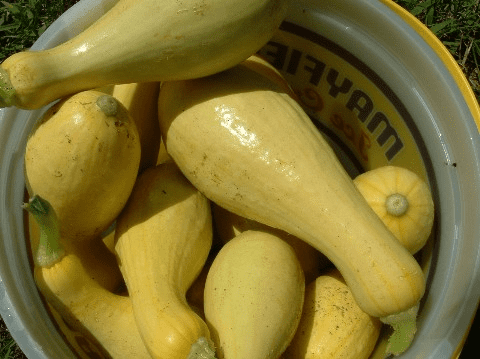 Yellow Squash has been a favorite veggie of mine since I was a child. This year's plants have just started producing what looks to be a bumper crop.
Our plants are huge this summer. I think it must be the chicken litter-as well as the extra rain we've been getting.
I ask Pap and Granny if their parents grew yellow squash when they were kids. Granny said the state took their garden to build the new 4-lane, and she couldn't remember what her mother planted before that.
Pap said-they grew a different kind of squash. By his description-I'd guess it was a Cushaw. He remembered it lasted longer than yellow squash, was a light orange tan color and seemed tougher like a pumpkin. His mother cubed it then fried it with sugar and water-kinda like sweet potatoes.
Seems everyone in our area grows yellow squash now-Pap said it was in the early 60's or 70's when folks here started growing yellow squash.
In the follow days drop back by the Blind Pig to:
See how to cook squash in the traditional Appalachian way (fried)
See how to make old fashioned Squash Relish (so good in the winter)
Come along with me as I try frying squash blooms for the first time ( I keep hearing about folks who do this and want to see if it's worth the trouble)
Come along as I try drying squash for the first time (when I was a little girl-I so wanted to be a Cherokee Indian-I know they dried squash)
Do you plant Yellow Squash? Have you ever planted any other varieties of Squash?
Tipper