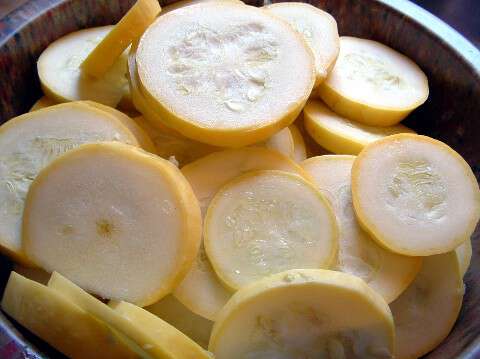 Over the past few days I've been preserving squash. First on the list-put some in the freezer.
I've never froze squash before-so I consulted my Ball Canning Book-which suggested you blanch the slices quickly-let them cool down-then pack the squash into your freezer container.
Although I was pleased to end up with several bags of yellow squash in my freezer-I'm wondering if you couldn't just skip the blanching part. When squash is sliced-it doesn't take long to actually cook it. Seems it might stay fresher without being blanched.
Second on the list-try drying squash. My dehydrator is a yard sale find-it works great-but only has one setting. I kept a close check on them-and the smallest pieces were completely dried in about 2 hours-the others-depending on the their sizes took longer.
I was planning on using the dried squash in soups and stews-but was pleasantly surprised by how good they tasted straight from the dehydrator. The finished product tastes very similar to fried squash-and that's a good thing.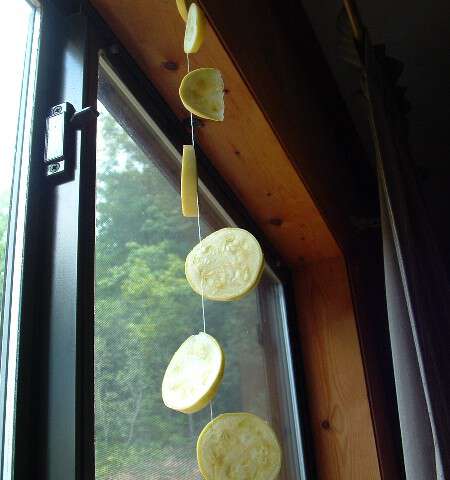 After hearing Dorothy Decorah speak about dried squash, I couldn't stop myself from trying her Mother's method.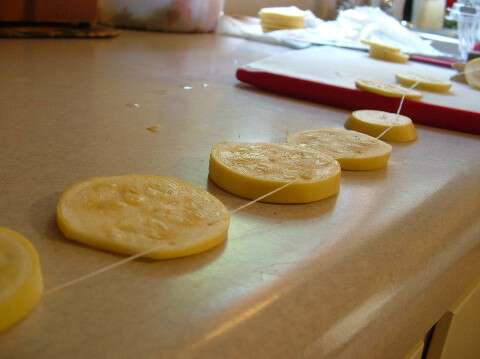 I strung the squash pieces on a string and hung them in my sunniest window. Maybe it'll work-it sure looks pretty anyway.
I seem to have developed an aversion to freezing natures bounty. Don't get me wrong-I think it preserves the taste and texture of most vegetables and is wonderful for taking care of The Deer Hunter's venison. It's not the room either-we are lucky to have 2 freezers in our basement (thank you Miss Cindy).
I suppose it's the same self sustaining feeling-you know the one that causes me to feel safe in my mountain holler cause I know beyond the next ridge I'd be hidden from sight?
Last summer when the economy first started plummeting-I drove The Deer Hunter crazy trying to make him can everything-even the things we usually freeze like corn and venison. I worry about the stability of our electricity. It's not uncommon for us to loose power for an hour or so-when there is no obvious reason-no snow, no storm, no wind. And if there is snow or wind-we know the power will go out.
So I worry about electricity loss due to natural causes-but truthfully I worry about loosing electricity due to causes other than mother nature-other causes-that no one can stop. Maybe I'm paranoid-think so?
Tipper