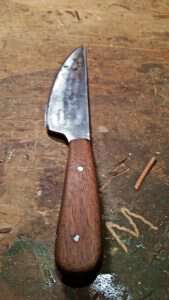 1. The Deer Hunter made his first knife. He used an old saw blade and a piece of rough lumbered black walnut. Turned out pretty good if you ask me. I love the shape of it. He said he had an old trapper's knife in mind when he was cutting it out. The metal is pitted but that doesn't effect the usefulness of the knife and I think the patina adds to the appeal of the whole thing.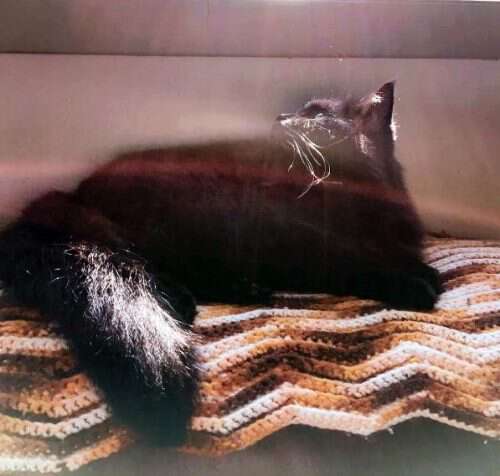 2. One of my eyes has been giving me a fit since back before Christmas. Well truthfully it's been bothering me on and off for at least 2 years. One of the times Pap was in the emergency room at the VA it was so red one of his cardiac docs asked me if it was ok. Anyway my eye doctor has been treating it for the last 2 months, but not much has helped. At one visit I told him my husband's friend said he had the same problem and his daddy made a liquid from sassafras roots and put it in his eye and it cured it right up. The doctor looked at me and said "So how long have you been putting sassafras in your eye?" I laughed and said "I haven't actually put it in my eye, I'm just telling you what my husband's friend said." I should have shared the Appalachian cure for a stye with him. If you haven't heard it before you're supposed to let a black cat rub it's tail across your eye to cure a stye.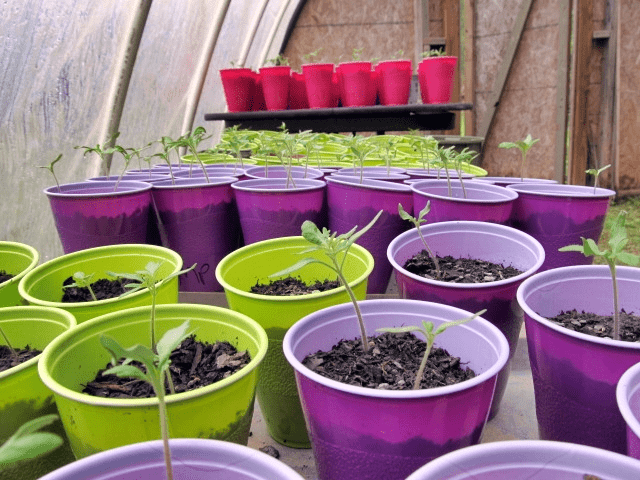 3. We've been thinking about the coming garden, you know making plans for replacing the raised beds and dreaming about what we'll grow this year. Chitter and Chatter cleaned up the greenhouse without even being asked to. I think they're ready to stick their hands and feet into some dirt. Chitter is planning to expand her medicinal herb garden and Chatter hopes to plant some flowers along with our usual veggies.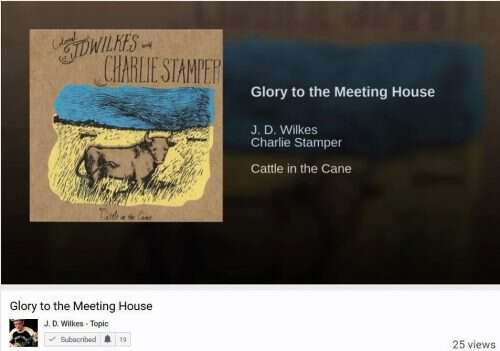 4. I've been greatly enjoying the old time banjo playing of J.D.Wilkes. I think I originally found him on Instagram or maybe it was Youtube. Either way I'm glad I found him. I especially like J.D. and Charlie Stamper's version of the old song Glory to the Meeting House. You can hear the song here.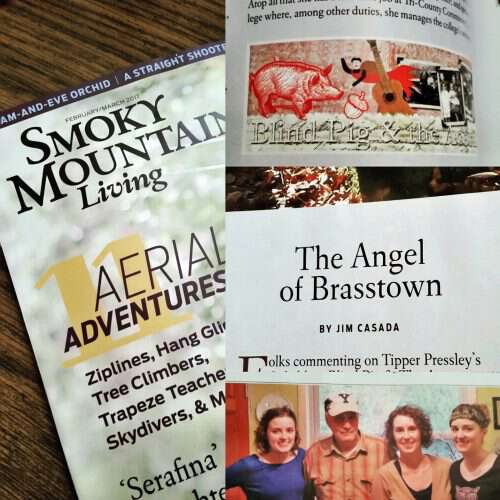 5. I was featured in the February/March issue of Smoky Mountain Living. Blind Pig Reader Jim Casada wrote the piece. I had nary a clue that he planed to write it nor that it would be in the magazine until it was! In the coming days I'll share the article with you, even though it makes me turn several shades of red every time I read it or someone mentions it to me.
Tipper