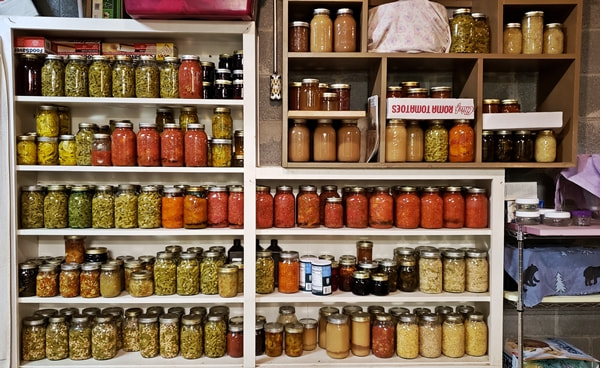 "As food writer James Villas has so aptly stated, none of the Southern culinary traditions are more sacred and respected than that of canning. And nowhere is this tradition carried out with such consistent continuity as in the Southern Appalachians.
Mountain housewives had been putting up fruits and vegetables in crock-type jars since early colonial days, usually with sugar or sweetenings such as honey or syrup. But around the turn of the century, easy-to-seal Mason-type glass jars became available for "home canning"; it was a boon to mountain homes.
If you want to see some of the greatest examples of the canning tradition, take a peek today into mountain country pantries; check out the rainbow kaleidoscope of colors in their jars of canned fruit, vegetables, pickles, and jellies."
—Josephy E. Dabney – "Smokehouse Ham, Spoon Bread & Scuppernong Wine"
---
I made a run of violet jelly over the weekend, that's my first canning of the year. Canning jars, lids, and rings were hard to come by last summer and it looks like folks may have trouble finding them again this year.
On one hand the lack of canning supplies is troubling, especially for the people who need them. On the other hand it means a whole lot more people are trying to put up food to feed their families and I think that's a good thing.
Tipper
Subscribe for FREE and get a daily dose of Appalachia in your inbox