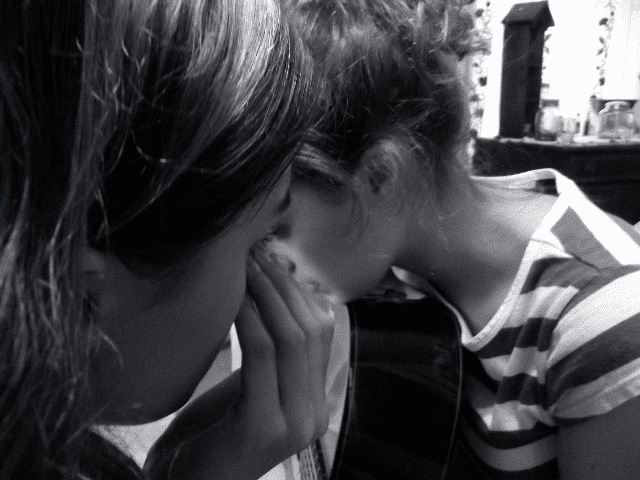 Have you ever played the game telephone? It's a fun game to play especially if you're in a group of giggling girls. I remember playing the game at summer camp and at slumber parties.
One person starts the game by whispering a phrase to the person next to them. That person passes the phrase along to the next person. Each person repeats the process until it reaches the last person in the group. The last person shares the phrase with the whole group. The fun happens when everyone sees how much the original phrase changed along the way. Now that I've explained it you can see how telephone is the perfect game for a bunch of giggling girls.
Paul used a version of telephone in his classroom, well sort of. When the class was studying propaganda. Paul would pick one student and one fellow teacher to be in on his game.
He would reprimand the student who was in on the game for some imaginary misdeed in front of the class. The discussion between Paul and the student would get pretty heated and end with Paul leaving to go to the Principal's office with the student.
The fellow teacher would then enter the classroom and ask the other students what happened. Paul said it never failed, the students would totally misrepresent what happened between Paul and the student. After the students had been questioned Paul and the student returned to class and let everyone in on the game, then I suppose they talked about eye witness accounts or whatever it was he was trying to make a point about.
Talking about the telephone game makes me think of making prank calls as a kid, you know ones like "Do you have Prince Albert in a can? Well then let him out!" or "Is your frigerator running? The you better catch it!" or "Your cows in my garden. Oh you don't have a cow well I don't have a garden either!" I was too backward to actually say any of those things to someone on the phone, but I was always willing to sit in the corner and cut up when someone else did.
I asked the girls if they ever played telephone when they told me how some of their lunch table telephone games ended in elementary school I wished I hadn't even asked. I could have done without knowing all that!
Ever play telephone?
Tipper