Today's guest post, and first entry in The Week Of The Fish, was written by Charles Fletcher.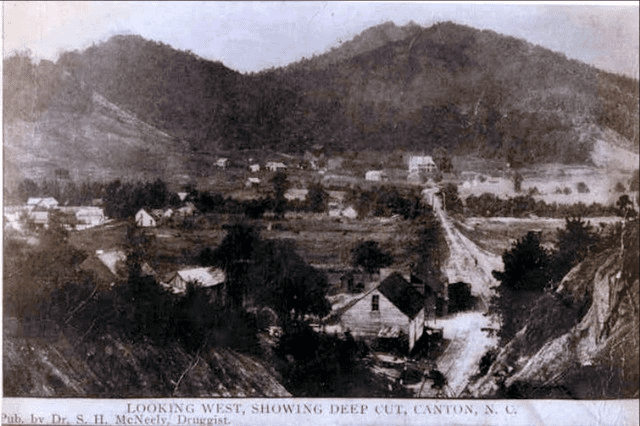 Fishing In The Mountains Of Western NC When I Was A Boy written by Charles Fletcher.
When growing up in the mountains of western North Carolina, I didn't have many opportunities to go fishing. That is, "real" fishing. Where we lived there were no fish in the nearby Pigeon River below the paper mill. My brother and I would fish in the creeks, but we only caught small fish and sometimes a crawfish. We didn't have any fishing equipment except the hooks we made from safety pins, line made from the string from Mom's sewing box and a fishing pole made from the straightest limb we could find from a tree. With our hand-made fishing gear, a big can of red worms, and a couple of biscuit and country ham sandwiches that were left from breakfast we were on our way to one of the many creeks for some serious fishing. It didn't bother us about what we would catch or how large it was, we were having a good time trying to outsmart whatever tried to make a meal of the worm on the hook.
The fish that we caught were small horney head or large branch minnows that we called "silversides." None were ever over three or four inches long. It didn't make any difference; we were fishing.
When we visited our uncles who lived up the river above the paper mill, they would sometimes take us to the "big fishing hole" in the bend of the river. The fish that we caught there were larger, and there were several different types. There were hog sucker, horney head, red horse, perch, silverside; and every once in a while we would catch a native trout that had wandered from the many trout streams on the mountain. There was an alligator-like "lizard" that was sometimes 10 or 12 inches long but didn't have teeth and didn't try to bite you. We were afraid of them, but we did catch one every so often.
When our Uncles took us fishing, we usually caught enough for a small "fish fry" when we returned home. The fish we caught were very bony, and we had to be careful not to swallow any bones when we ate them. There was an "old folk's tale" about drinking milk with fish. It was said that this combination was poison and could kill you. This was fine with me because my Aunt Cory always had a big pitcher of some kind of drink she made from her secret ingredients to go along with the fish. She wouldn't tell you what it was. She referred to it as "beer". I guess that she never passed her recipe along to anyone. These mountain people had their secrets and seldom gave them away.
I got to fish in the big lake at the Methodist Church Assembly called Lake Junaluska a couple of times. The fish were bigger there, and there were lots of them. The prize fish that everyone tried to catch was the carp. We would make bait for carp by mixing flour with cotton. We made what we called "dough balls." This was the type of bait that everyone used when trying for carp. Not only were they large fish, but they were a good eating fish.
I guess that I inherited the love for hunting and fishing from my dad. He did a lot of hunting and fishing when I was growing up in the mountains of western North Carolina.
————————-
I hope you enjoyed Charles's memories of fishing as a boy as much as I did!
Tipper