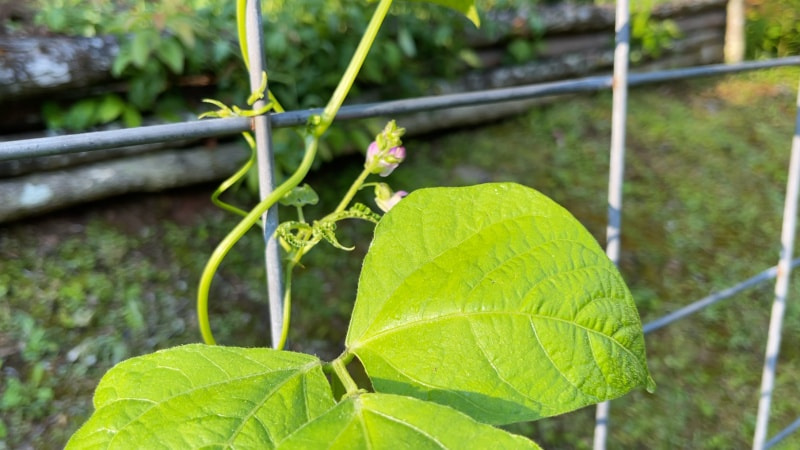 I hope to get some more squash, zucchini, and peas planted this month. I like the benefits of doing succession plantings, but don't always get it accomplished. I did manage to plant some more onions about a week or so ago.
Today in my Mountain Flavors class we visited Tim, my neighbor down the road. As we walked around his big garden he explained to the class that once he plants corn he plants it again and again in three week intervals. Of course you've got to have a big garden to do that sort of succession planting. His corn looks great. He expects to start harvesting from the first he planted in another two to three weeks and the last corn he planted is just barely peeking out of the ground.
I was surprised to see a couple of cattle panels in his garden. He said the men working on the bridge were using them for pouring concrete and ended up with two left over so they gave them to him. He said that was years ago, but he decided to use them this year and see how they worked.
His apple trees suffered from the late freeze we had, well they more than suffered. All the trees had small apples on them and after the freeze they all fell off. I was saddened to learn Tim will have no apples to sell this year. I haven't told Granny yet, but I know she'll be disappointed too. She swears Tim's apples are the best she's ever eaten. I'm not sure of the variety, but the apples are red.
Here's my favorite planting by the sign days for July.
Taurus: good for all root crops and above ground crops 3, 4, 30, 31
Cancer: best for planting above ground and root crops 8, 9
Scorpio: best for flowers and above ground crops 17, 18
Pisces: good for planting and transplanting above ground crops, trees and shrubbery 25, 26, 27
Best fermenting days for July (when the signs are in the head).
Tipper
Subscribe for FREE and get a daily dose of Appalachia in your inbox