Today's post was written by Paul.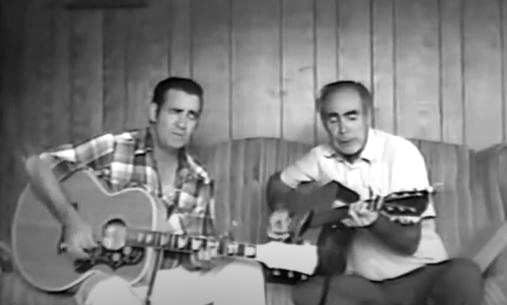 A couple of weeks ago, I thought of a song that Pap and Ray used to sing called "Four Books in the Bible." It probably crossed my mind because of its opening line, "If you want to know what's a matter with this old sinful world…"
I realized that I had never heard anyone else sing this song, yet I knew Pap didn't write it. I was pretty sure it wasn't in any hymnal, so I set out to find out where they learned the song.
I tested several theories, seeking to answer more questions in the process. An initial YouTube search yielded 4 results: The Stanley Brothers, Cowboy Copas, Carl Story, and a men's choir in a foreign country (Het Urker Mannenkoor 'Hallelujah' ).
I knew Pap and Ray didn't learn it from the Stanleys. Although they respected them, neither Pap nor Ray liked their singing. Pap generally liked Copas, so I thought Copas might be the source. I figured Pap learned the song first and brought it to Ray, rather than the other way around. I was basing this on the fact that Pap sang all the verses, rather than Ray. Most likely, if they had learned the song at the same time, Ray would have sung them, because he was the primary lead singer.
However, some things about Copas' version didn't seem to fit. Some of the lyrics were different, and the notes and phrasing were also different. Neither Pap nor Ray were strong fans of Carl Story, but Pap liked Story's version of "Light at the River," so I listened to Story's version of "Four Books." Early in the song, there was a small clue.
Out of all the versions I listened to online, only Story says "weaker and wiser," like Pap sang it. Everyone else says "weak and wiser." The clincher came when I heard Story sing the verse that begins "There's comfort in the Holy scriptures." No one else has this verse, which Pap also sang. After answering that question (at least to my satisfaction), attention turned to authorship. Who wrote this song? Answer: Odell Mcleod, a small-time musician and singer who started in the late 30's and continued until the 80's, singing at one point with a male partner named Slim and later with his wife as a duet. Notably, Mcleod also composed "Thirty Pieces of Silver!" There's a worthwhile small collection of his music on YouTube, but I didn't come across him singing "Four Books." He seemed to sometimes enjoy interjecting a lot of words into a small span of beats (such as listing four disciples' names in only three beats). This can be heard in other catchy songs he wrote, like "One Day Religion Won't Do." I like his style.
Remember that foreign men's choir mentioned above? I listened to their version of "Four Books" and was fascinated. I love their version. I listened over and over. What country was this? Why were they dressed this way (striped shirts, short pants, bells under their necks, double earrings for some)? How did this song wind up there, being sung just six months ago?
By watching their other videos (only one other was in English) and reading the comments, I gathered that they are Dutch. Back in the 90's, Pap and Ray used to receive letters from the Netherlands. Although the letters were written in English, we really couldn't understand what they were trying to say, other than that Pap and Ray's tapes had somehow found their way to their country, and that they too believed in God. For a moment, I speculated, "Could Pap and Ray be responsible for this song reaching the Netherlands?" I quickly remembered that they never recorded the song on a published record.
My next theory centered on Copas. He had the star power to have international reach, having one song that remained #1 in the US for 12 weeks. I noticed that the lead singer in the video of this particular men's choir even sings in the business-like manner of Copas. I figured, "I bet this guy is a fan of classic country, and I bet he convinced the choir to include this song in a set!" I was briefly satisfied with this conclusion, but then I noticed: "Wait, there's another Dutch choir singing it, and another, and another, and another!"
I found at least 5 different men's choirs in the Netherlands performing it, going back as far as 1992 (some with an almost jazz-like approach). Why would this song be covered so much in that country?
"Odell Mcleod" is a strange name; maybe he was Dutch? Nope. Born in Alabama. I kept searching and stumbled upon what I believe to be the answer: in the 1980's Mcleod and his wife toured in the Netherlands, thereby planting the seed of this song, where it flourished. They toured with a Dutch husband and wife called A.G. and Kate. The latter couple was quite popular, and it may have been more their success than that of Mcleod that spread the song there.
A.G. and Kate moved to West Virginia, playing and singing their music in the US for years until their retirement. You can find them online.
Remembering "Four Books" also led me to rediscover an old VHS tape of Pap and Ray and to share it.
---
I hope you enjoyed Paul's post and the song! If you'd like to have some Wilson Brother music for your own, check out the cds below: "Live at the John C. Campbell Folk School" and "Today if You Will Hear His Voice."
Blind Pig & The Acorn Music
Tipper
Subscribe for FREE and get a daily dose of Appalachia in your inbox