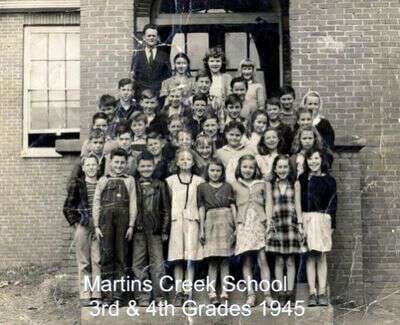 Remember back in elementary school when you learned about verbs and their tenses?
Pap is the first boy in the second row starting from the left-and the brick building behind him is where I learned about present, past, and past participle tenses of verbs.
In 7th and 8th grade Mr. Crandall Moffitt was my teacher-he taught a classroom filled with 7th and 8th graders and was the Principal to boot. Mr. Moffitt was one of the best teachers I ever had.
Our English book was fairly small, but thick. It seems like it was black with a rainbow of colors on the front spelling out English or something similar.
But just because Mr. Moffitt was a great teacher and I made all As in his class doesn't mean I speak correct grammar, you probably already figured out that one on your own.
My Dictionary of Smoky Mountain English  has 3 or 4 pages of common verbs used in the Smoky Mountain area and their tenses. I'll share a few with you for today's grammar lesson in the order of present, past, and past-participle
arrive    arriv, arrove     arrove
ask        ask, ax           ask, ax
bang      bung              bunged
bear       bore               bore
My thoughts:
arrive, arrived, arrived- is the common usage here
ask, ask, ask- is the common usage here
bang, banged, banged- is the common usage here-however I have heard bunged
bear, beared/bore, beared/bore- is the common usage here-I would say I hear beared and bore equally used as the past or past-participle of the verb
So how about where you live-what usage do you hear? And do you remember learning about verb tenses in school? I'm pretty positive Chatter and Chitter never learned about them. Over the years their various English teachers have focused on literature and for the most part, left out grammar.
Tipper