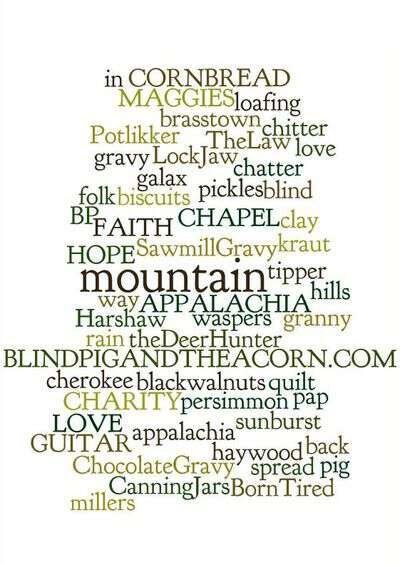 I'm so excited about the music the girls made on our recent trip to an old church in the Smoky Mountain National Park-that instead of giving one dvd away-I decided to give 3 away.
I used the handy dandy number generator and it picked: #29 = Ethelene Dyer Jones; #33 = Janet Smart; and #38 = Vickie. Ladies send your addresses to me and I'll send you a dvd!
——————————
Ridgeline TV has posted the rest of the Blind Pig Gang's performance at the Union County Historical Society.
The videos are just like the first one-about 7 or 8 minutes followed by a commercial-with the video continuing after the commercials.
——————————
Christmas is coming! Can you believe tomorrow is the first day of December?
If you have an Appalachian Christmas themed story-recipe-poem-memory I'd love for you to be part of the month of December on the Blind Pig & the Acorn. You can submit them to me by email- [email protected]
——————————
See the photo at the top of the page-with all the words? It's called a Wordle-if you haven't heard of them-they are really cool.
If you have a website-you can enter your url or web address. That's what I did and Wordle picked out random words it found on the Blind Pig.
Or if you don't have a website-you can list all the words you want to use yourself. You can also play around with the font and color of your wordle to get the look you prefer.
If you want to make a Wordle-click here.
Tipper