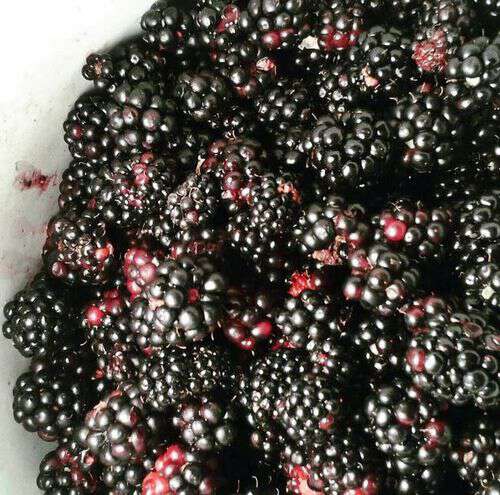 Every summer we have a laundry list of items we want to make sure to put up for the coming winter. Some items we can get away with only doing every other summer-things like kraut and pickled beans and corn. Other items we do every summer because we usually run out before winter is over.
The one thing I cannot do without putting up every summer is blackberry jelly. There's no other jelly for me. Oh I like other jellies too, but my go to favorite must have jelly is blackberry. I suppose it's because I grew up with it.
It's a taste that goes back to breakfast spread on Granny's table and after school snacks of peanut butter and jelly sandwiches along with milk and reruns of Tom and Jerry.
This year I've been in blackberry heaven. Chatter has wore her little fingers out keeping me supplied with the black jewels. She likes blackberry jelly as much as I do.
Blackberry Jelly
3 3/4 cup blackberry juice
1 box surejel or other brand of pectin (if you'd rather not use store bought pectin you can do a quick google to find a recipe for the old way of making blackberry jelly and you can see where I gave it a try a few years ago here)
4 1/2 cup sugar
jars, lids, rings
Blackberry jelly is one of the easiest things to make-the hard part takes place before you ever make the jelly. First there's the fighting heat, bugs, snakes, bees, and briars for the blackberries. Then there's the juicing of the blackberries.
Some folks prefer jam-and if you're one of them-your jelly making will be easier. I'm not a fan of seeds so I try my best to get every last one out of my juice.
I start with cooking the blackberries about 20 minutes to get the juice flowing out of them. Every once in a while I'll mash down the berries with a potato masher or the back of a spoon.
It takes about 2 and half quarts of blackberries to get the amount of juice needed for a run of jelly. But I don't worry about whether they'll be enough juice for a run of jelly-I just go ahead and cook them and see what I end up with.
Place blackberries in a large stock pot and add water until you can just begin to see it come up around the berries. Cook for 20 minutes.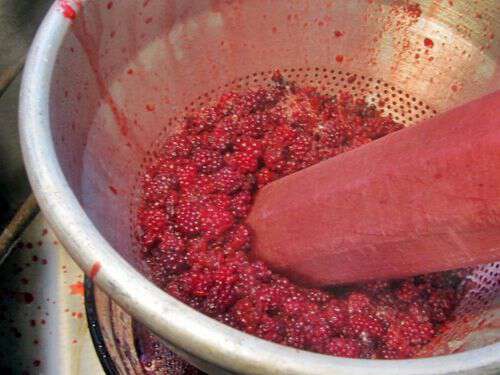 Granny always used a hand turned foodmill for the first step of juicing the berries and that was what I used before Miss Cindy gifted me with a cone shaped colander ricer. I LOVE MY RICER!
Place blackberries in ricer or foodmill and try to get all the juice out of them. This step also gets most of the seeds out of the juice.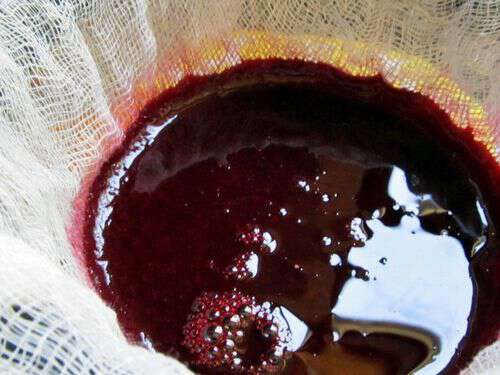 To ensure all the seeds are removed I use my small sieve/strainer and a piece of cheese cloth to filter out any seeds which are left.
If you end up with enough juice for 2 recipes of blackberry jelly-double it! I have with very good luck. If you end up with extra but not enough for another recipe-pop it into the freezer until you get more juice. If you end up with almost enough-you can add water to increase the juice to the right amount or you could add another type of fruit juice to make up the difference.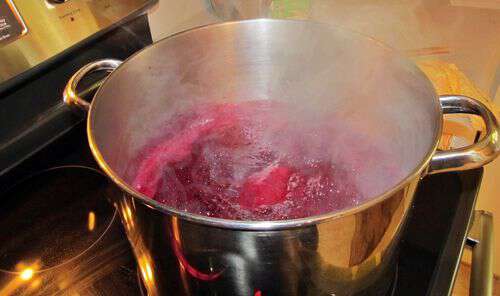 Place blackberry juice into a large pot; add surejel; stir well.
Cook mixture until it comes to a boil. Not sure there's anything that smells as good as blackberry juice when it's cooking.
Add sugar all at once and stir to combine.
Bring mixture back to a full rolling boil and boil one minute.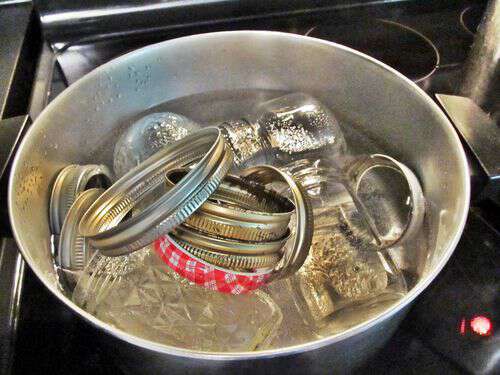 While I'm waiting for my blackberry jelly to come to a boil I fix a pot of boiling water to sterilize my jars and rings in. Some folks like to sterilize theirs in the dishwasher or the oven-that works too.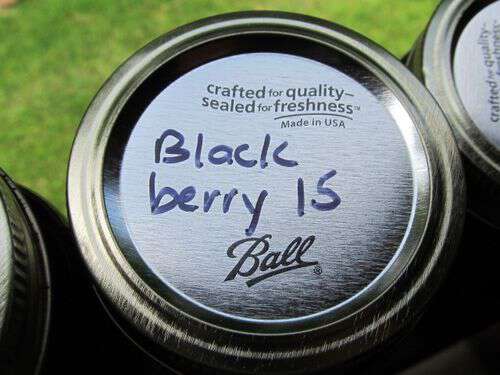 Once jelly has boiled one minute quickly ladle into hot jars and seal with lids and rings. Set jelly upside for 5 minutes.
Turn jelly right side up and cover with a towel until sealed.
After jelly has cooled check to make sure all the jars have sealed-if one hasn't don't worry just put in the refrigerator and use it first.
There is a whole debate about whether you should water bath your jelly or not. I don't-and feel comfortable doing it that way since I always have. If you'd rather water bath yours-do so for 5 minutes.
One recipe made the jars you see in the photo above-plus one more that I used immediately to make a jelly sandwich. 2 pint jars and 3 half-pint jars.
Tipper