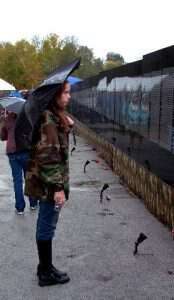 To say the southern highlands of Appalachia have been rainy lately is an understatement. It seems it's rained continuously for the past month-you know since the post where I stated fall here is typically dry? Not this year.
The Moving Wall has been in our town for the last week. I think it was back in June when Chitter first read about it's impending arrival in our area. Ever since, she's been counting the days. Soon after school started she came home tickled pink-she found out her class would be walking down to visit the wall once it arrived-thrilling to her-they'd get 2 class periods to learn about the wall, wander around, and ask questions.
Skip ahead to yesterday-the day for the visit to the wall. We awoke to the pounding thundering sound of rain on the roof. I tried to console her by saying they'll probably just reschedule the trip for the following day-surely the rain would be gone by then. Determined to go to the wall-she made sure both her and Chatter dressed appropriately for rain-boots-jackets-umbrellas.
As we completed the carpool pick up and started our drive into town the rain was coming down so heavily I could barely see the road. The streets in town were flooded at several points. Once we arrived at school, I jumped out to help them gather their backpacks, lunchboxes, instrument and stand. In the amount of time it took them to get their grip and go-a pond of water accumulated on top of the raised trunk-of course it drowned me as I shut it.
Next stop-grocery shopping for me and Granny-the rain was still torrential. We shared the remaining umbrella to get into the store-since I always finish before Granny-I gave her the umbrella to keep and thought I'd buy a cheap one while I was shopping. I forgot. Not wanting to go back through the check out again-I braved the rain and unloaded my groceries. By the time we got back to Granny's I was so wet I was cold. After I carried her groceries in, I headed home thinking of a hot shower and dry clothes.
Once my groceries were put up-I checked the machine. One message. From Chitter. The trip had been canceled due to rain-and the wall was leaving at lunch. Would I please come get her and take her to the wall? It was one of those mom dilemmas for sure- I was cold, tired, wet and did not want to go back into the soaked landscape plus I had a blue million things on my to do list. But she had been talking about the wall since June so I went.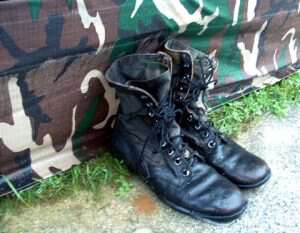 Near the beginning of the wall we were struck by the mementos that were left to honor those who gave all. I realize the Vietnam War affected and touched folks from my area-I mean my Uncle Henry is a veteran of the war. But somehow the things folks left here in my home town electrified my knowledge that not only did the Vietnam War affect my friends and neighbors-it is still affecting them all these years later on a deeply personal level.
A lovely lady was a volunteer-she shared stories with us like: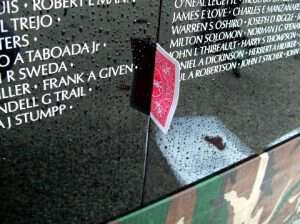 All the cards stuck in the cracks were Ace of Spades left for fallen Marines. During the war Marines left behind the Ace of Spades as a type of calling card for the Viet Cong. Now-Marines leave the cards at the wall as a way of honoring their fallen comrades.
A photo of a soldier and his dog, along with the dog's collar was left by a career soldier who just shipped out to serve again. The boy and dog in the photo-were his best friends in Vietnam-both were killed and he kept the collar all these years.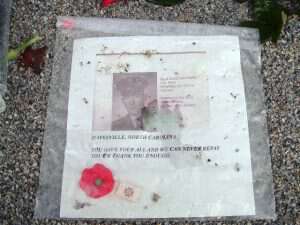 Perhaps the most moving moment for me happened as I looked at the paper above. It is a copy of the telegram Miles H. Nelson's mother received notifying her of his death. As I bent over to read and photograph it-I noticed an elderly lady beside me-kinda hesitantly looking around. Thinking I was in her way I stood and stepped back a few feet. I soon realized she was trying to wipe the rain from a name to take a rubbing of it. I reached for her umbrella and held it for her. Her hands trembled and her pen wouldn't work. I told her I had a pencil-she asked if I would do it for her. As I rubbed the name I realized it was the name from the telegram- Miles H. Nelson. As I handed her the rubbing I asked if he was her son or brother. As she began to cry, she said no, he was a boy she grew up with. A boy she knew all her life who went to war and didn't come back home. While we both stood crying in the rain she shared her story with me. She came from a military background. Her father-n-law served in WWI, her husband served in Germany during WWII, and her son just recently retired after a career of service for his country. She said she thought folks probably thought she was silly for crying. I told her no I didn't think so-I think most folks would thank her for supporting her family who served for us all.
I can honestly say visiting the wall was one of the most moving experiences I've ever had. Even if I hadn't enjoyed it-the photo at the top of this post would have been payment enough for my trouble. The look of awe on her face-the look of total respect and gratitude is priceless.
When I look back over yesterday-it seems the rain wasn't so bad after all.
Tipper
This post was originally published here on the Blind Pig in the Fall of 2009.