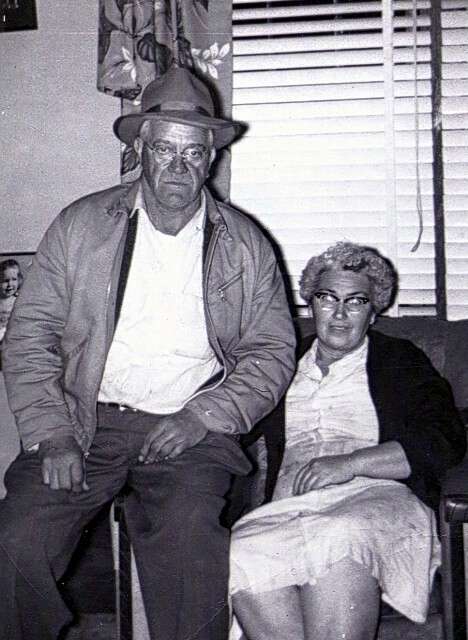 James and Lura Pressley
James and Lura were The Deer Hunter's grandparents. James passed away when The Deer Hunter was just a boy and Lura passed away when I was pregnant with the girls. Even though they've been gone for many years, as with all of the deceased, pieces of them still exist here on this earth. Of course there's the literal pieces like the permanent crook of The Deer Hunter's pinky finger-several descendants inherited it or a variation of it from James and then there's the feisty spirit of Lura which is evident in several of her offspring, including our very own Chitter.
Other pieces of James and Lura exist in the traditions they passed on to their children and grandchildren. We observe one of those treasured traditions every Christmas Eve-a bit pot of oyster stew.
Papaw Tony said he couldn't remember a Christmas Eve that James didn't serve up oyster stew. As I googled around I discovered a Christmas Eve bowl of oyster stew is pretty common. I found various reasons behind the tradition-you can read about them here and here.
I questioned Papaw Tony about where James might have gotten the oysters way back in the day. He said he wasn't sure but thought they might have come from a connection the family had with Smathers Grocery in Canton.
I put the question to Papaw Tony's only remaining sister the other night. I figured since she was well up the chain of older children from Papaw that she might remember. She said "Daddy went and got them out at the coast in the early days. Several of them went and they'd bring back big barrels of oysters. I've shucked many a oyster in my younger days. As the years went by you know you were able to get them closer to home then. Momma and Daddy always had oyster stew, it wouldn't have been Christmas without it."
Later today The Deer Hunter will make his oyster stew using the same simple recipe James and Lura did. He'll warm a big pot of milk, add butter for richness, and then add the oysters and lots of black pepper. He'll wait patiently as the stew heats slowly until the oysters are cooked through.
The Deer Hunter has added his own twist to the traditional oyster stew. As soon as its done he carries a quart jar full down the hill for Pap to enjoy.
The girls don't care for oyster stew like we do, but who knows maybe they'll get a taste for it and continue the tradition started by their great grandparents James and Lura.
Tipper