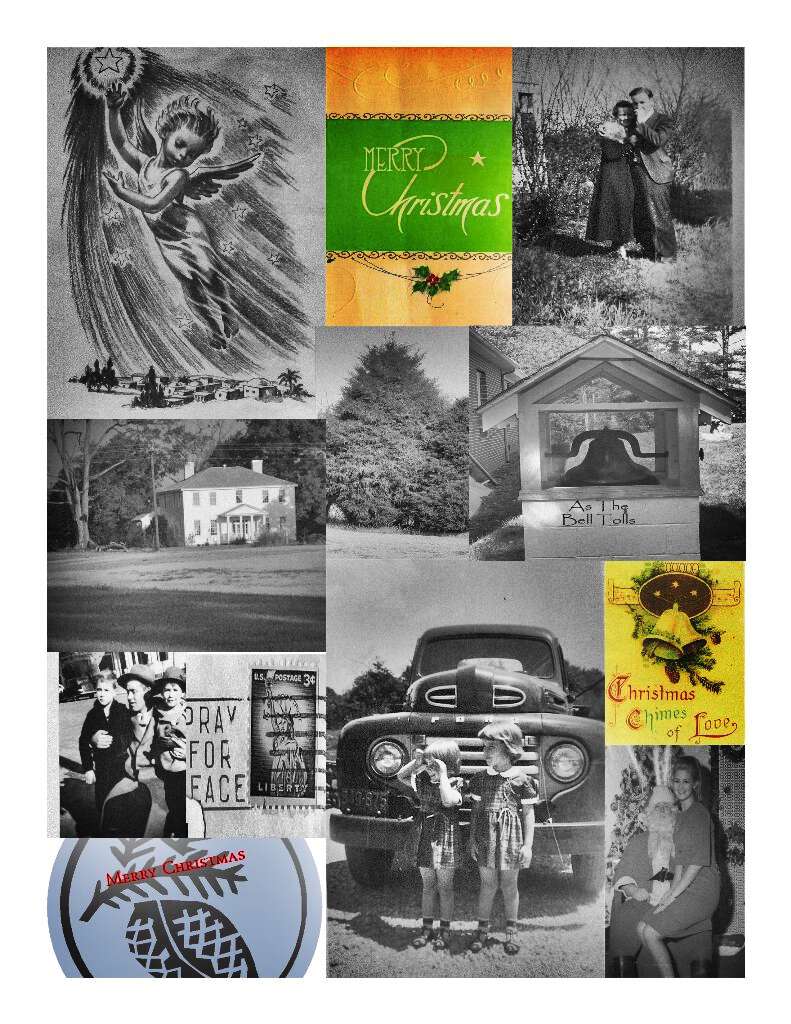 (Excerpt from the book, A Time For Every Purpose) written by Barbara Taylor Woodall
www.itsnotmymountainanymore.com
The first sign of Christmas a'comin' in our Rabun Gap mountain home was Mama opening a big can of Johnson's paste wax to smear all over the plank floors, then waiting for my brother and me to get home from school. The smell of wax ensured the house would turn into a fun skating rink. Our skates were thick wool socks knitted by Granny Lou. We slipped, slid, giggled, and wiggled for hours, polishing the floors. That was the first shine of the season.
About two week before Christmas Eve, my brother and I gathered up brown tow sacks and a double bitted ax and began a journey by foot three miles away to Littleton Cove where a grove of cedar trees grew. We wrapped up in scarves and coats and pulled tattered toboggans over our ears to cross fields and dales cold and white. Heavy frost looked like a young snow and sparkled like diamonds in the golden sunlight. The frozen forest bed crunched like walking on dry corn shucks. When we stopped to rest, the only sound was our deep breaths mixed with cold air and formed steam. All nature seemed to stand still in a holy hush that could not be described with words, only felt deep within.
Straddling an old fence, we journeyed onward with the hope of finding red and green Christmas treasures to fill our sacks. In the distance, faint glimpses of red holly berries and green branches encouraged us in our quest. Soon our sacks began to bulge as we stuffed nature's treasures inside. We paused a moment, playing with holly leaves that were easily turned into toys when held between the thumb and forefinger. We blew hard breaths on them, creating entertaining flutter mills.
Once a tree was located, Ernest made me bend the tree over while he swung the ax. He knew the jarring of the cedar tree would cause its limbs to scratch me like cat claws, so he chopped a while and laughed a while as an eternity seemed to pass before it finally fell to the ground. Our sacks loaded with burrs, berries and boughs, and the tree in tow, we started home.
Mama tied two colored ropes across the porch to display our collections of decorations. Inside she twisted green pine branches with colorful Galax leaves into pretty wreaths to scent the house. As she worked, she sang Christmas songs. One was about a star of hope and rest that guided the wise men on their way to find Jesus. She said, "The Bible says when they entered into the house they saw the young child first, and all the rest second. I wished I had seen Him first instead of a bunch of religion." She told of precious gifts of gold, frankincense, and myrrh that lay before Him.
At night, we busied ourselves talking about Christmas and making colorful chains from strips cut out of the Sears and Roebuck catalogue. The links were held together with glue made from flour and water. Collected chestnut burrs and pinecones were rolled in the remaining mixture to turn them into white balls for the tree.
Ernest cracked black walnuts with a hammer, and then picked out the meat by the light of the fireplace for Christmas goodies while I cut paper snowflakes to hang on the windowpanes. Moonbeams shown through the paper holes, creating golden patterns on the walls adding to Christmas magic. Prince Albert tobacco cans were cut in strips and used for icicles, and silver stars were shaped out of foil from old cigarette pack linings. Stars reminded me of the one seen by the wise men. Dad said, "You have to be wise to know where to look in the heavens."
After the tree was tied to a corner wall, it was ready for us to begin hanging the decorations. meanwhile, sweet smells filtered from the kitchen to make us more anxious for Christmas to come. On Christmas Eve, Dad took the Bible off the mantel after supper and read the old story about baby Jesus lying in a manger. He said the bread of life was put in a feeding trough to feed the world, and especially on Christmas Eve when the cattle in the barn got down on their knees in remembrance. Our eyes widened with amazement, and Ernest said, "Let's go see!" He lit the lantern and we took off towards the barn in the cold night to peek through wide cracks. sure enough, the cows were lying down in the soft hay.
When we returned to the crackling warm fire inside the house, sister Bea, a first grader, was hanging three wool socks above the fireplace and singing a song she learned in class: "What can I give Him, poor as I am? If I were a shepherd, I'd give Him a lamb. If I were a wise man, I'd do my part; yet what can I give Him, I'll give Him my heart." dad said, "Let's act like the cattle and kneel down; let's offer our hearts too." Simple prayers mixed with the sweet smells from the kitchen ascended upward. Christmas Eve in the calm, silent mountains on Kelly's Creek ended.
The next day, three excited young'uns jumped up early to see what Santa Claus brought. Our socks were filled with stick candy, rag dolls, slingshots, crow calls, whistles, apples, oranges, and a few funny looking nuts. Finally, Mama said, "Run to the woodshed! I heard a rustle out there and th' dog raised cain all night. Santa Claus might have stopped there." Sure enough, he did, and he left a red wagon with sideboards and two store bought dolls. Christmas dawn was just breaking over the blue-hazed mountains. Ernest pulled his wagon inside near the fire. He put his pillow in the wagon, climbed in and fell asleep. This is one memory I will continue to unwrap year after year in my heart.
(Excerpt from the book, A Time For Every Purpose) written by Barbara Taylor Woodall
www.itsnotmymountainanymore.com
—————————
I hope you enjoyed Barbara's Christmas memories as much as I did! Jump over to her website and check out her books and you can learn more about her as well.
Tipper