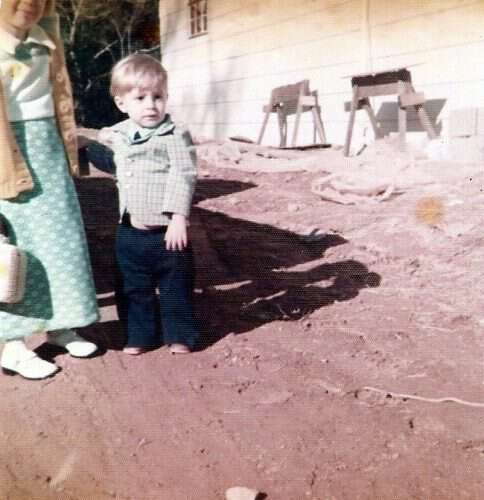 Tipper and Paul
Paul was a New Year's Baby. I've heard Granny tell the story a blue million times. She knew he would be her last child-she was older and the pregnancy had been a difficult one. But as she neared the end she begin to dream that maybe she'd have the first baby born on New Years Day. Managing to deliver the first child born in a new year practically guarantees your picture will be in the newspaper-maybe even the front page.
As her labor started it seemed that's exactly how it would work out-until right before she was about to give birth. Granny says "they rolled some little young thing in there, she was screaming and hollering and before I knew what happened she had her baby first-even though I'd been in labor since the day before." So Paul was the 2nd baby born on New Years Day that year-and no they didn't make the paper.
To add insult to injury-Paul caught a staph infection in the hospital. Granny Gazzie (you can see her in the pic above holding Paul) came and stayed with us for a week or so-since the new mother was exhausted and all the baby's bedding had to be washed once a day and his bed or anything else he touched had to be washed down as well.
Not too long after Paul was born, we moved out of the little house in Martins Creek to the house Pap built in Wilson Holler. (you can see Pap's homemade saw horses in the back ground of the picture and you can see Granny's handy work in mine and Paul's clothes-she made them)
Paul wasn't shy and backward like me-by the time he was 5 or 6 years old he was doing Howard Cosell impersonations. After Sunday Dinner at Granny Gazzie's when everyone was sitting around in the living room-Paul would take the floor and tell jokes like a stand up comedian-being cute as a button didn't hurt his act any either.
I always thought kids who had birthdays any where near Christmas missed out on the excitment of summer, spring, or fall birthdays. By the time everyone had celebrated Christmas and rung in the New Year-Paul's birthday seemed like it was an afterthought.
One year when money was tight-I got the idea to give Paul a box of his favorite cookies for his Birthday. He enjoyed them so much-that I've given him a box on every birthday since.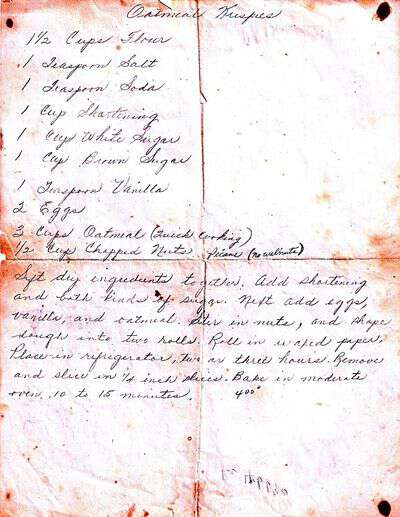 Back in the day when me and The Deer Hunter were dating, Miss Cindy made the best cookies I had ever eaten-Oatmeal Krispies. She gladly shared the recipe with me-and as soon as I got home I made some for the whole family. Everyone liked them-but Paul especially loved them.
After me and The Deer Hunter were married, Miss Cindy told me Bonnie, her mother, made Oatmeal Krispies when she was growing up. As time went on-Miss Cindy gave me Bonnie's hand written copy of the recipe-what a treasure to have.
Ingredients
1 1/2 cup plain flour
1 teaspoon salt
1 teaspoon soda
1 cup shortening
1 cup white sugar
1 cup brown sugar
1 teaspoon vanilla
2 eggs
3 cups oatmeal-quick cooking
1/2 cup chopped nuts (I've never added the nuts)
*First cream shortening and both sugars till well mixed. Sift dry ingredients set aside.
*Add eggs mix well. Add Vanilla mix well.
*Add dry ingredients mix well.
*Add oatmeal mix well.
*Roll dough into long rolls and wrap in foil or wax paper. Put rolls into refrigerator for at least an hour. The rolls will keep several days in the frig or you can freeze them.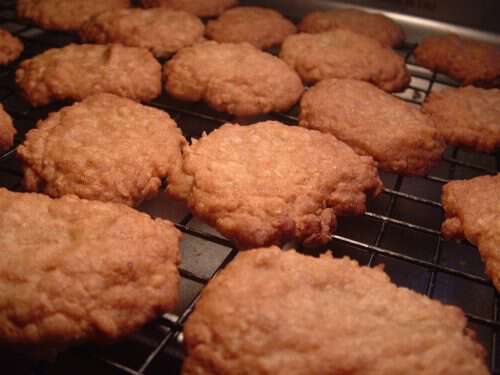 *Slice chilled rolls into 1/4 inch slices. Bake at 400 for 6 to 8 minutes depending on oven-or till light brown.
Ever had Oatmeal Krispies?
Tipper