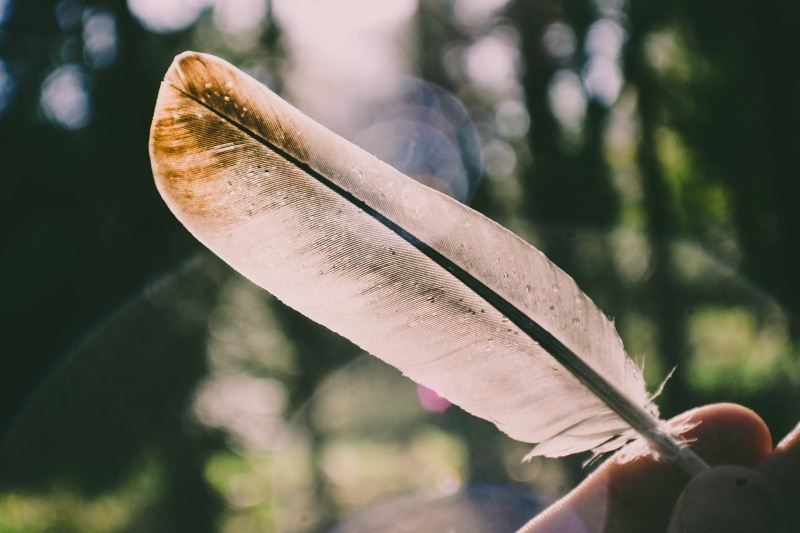 The other day I was thumbing through my Dictionary of Smoky Mountain English and noticed there were several interesting entries for the word feather.
feather dance noun Same as a buck dance.
1983 Matthew Cutting a Dido 105 The "feather dance" [is] a local sobriquet for old style buckdance: "A 'feather dance,' that's just a little toe dance. You just kind of move from your knees down, a little feather dance. The old-timers said that when you were a smooth dancer, a feather dancer, that you could dance with a bucket of water on your head and never spill it."
Although I've heard of buck dancing my whole life, I've never heard of feather dancing.
feather into verb phrase
1 To attack, shoot.
1917 Kephart Word-list 412 = to attack, as with arrows piercing to the feather. "He feathered into him, feedin' him lead." 1931 Combs Lg Sthn High 1308 "Feather into one" means to attack him violently. 1952 Wilson Folk Speech NC = to fight, to light into. 1955 Parris Roaming Mts 21 Don't laugh when a mountain man talks about how he "feathered into them," a phrase that passed out of standard English when saltpetre replaced the long-bow.
2 To work vigorously to get done.
1937 Hall Coll. The man feathered into this crop. 1939 Hall Coll. He seed the work had to be done, and he just feathered into it. 1967 Hall Coll. Del Rio TN Feather into, that means to fall into something and get right with it. (Wilford Metcalf)
The manner I've heard feather into used is most similar to the 1952 Wilson Folk Speech example.
feather-legged adjective Cowardly.
1952 Wilson Folk Speech NC 539 = frightened, cowardly. "I get sorta feather-legged when I get around her." 1972 Cooper NC Mt Folklore 91 = cowardly. 1995-97 Montgomery Coll. (Brown, Cardwell, Norris).
I have never heard feather-legged.
feather out verb phrase To dress up, wear fancy clothes.
1937 Hall Coll. Cades Cove TN She was all feathered out. (Dave Sparks) 1995 Montgomery Coll. (Cardwell).
I've never heard feather out, but I like it!
feather tick noun A bed tick filled with feathers, on which one sleeps in winter. Same as flock tick.
1975 Purkey Madison Co 40 Spring cleaning was another important event in our household. On a bright sunny day everything in the house was carried outside, and the straw ticks were emptied and refilled with fresh straw. The younger fry loved to play hide and seek and turn sommersaults among the feather ticks as they lay sunning in the front yard. 1991 Haynes Haywood Home 41 Most everyone had cord beds in their homes. On top of the cord webbing, they put a straw tick , and on top of that, a feather tick. In spring, all the feather ticks would be taken outside to be sunned for several days. 1995 Andrew Jes' Broguin' 6 Then, after she hung the dish-rag on the nail of the kitchen wall, she went off into the back room to her feather tick bed to snuggle under the quilts.
Like most folks, I've heard of feather ticks. I've never slept on one though. Hard to imagine sleeping on a cord bed with a straw tick and a feather tick—doesn't sound very comfortable, but I bet it beat sleeping on the floor!
The Deer Hunter never had a feather tick either, but he did have feather pillows as a child. He about drove Miss Cindy crazy over them. As he went to sleep he'd work feathers out of a corner of the pillow and drop them behind the bed. Once Miss Cindy caught on to his game she sewed the corners shut, but that didn't deter the feather pulling, He still figured out how to get the feathers out and continued to drop them behind the bed 🙂
Tipper
Subscribe for FREE and get a daily dose of Appalachia in your inbox