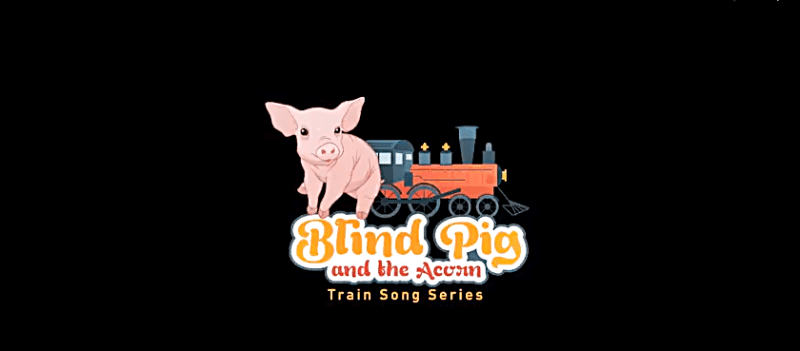 Today's post was written by Paul.
————————
We are declaring November to be Train Month on our Blind Pig and The Acorn Youtube Channel. There is no national train month that we could ascertain. Once upon a time, Amtrack designated May as National Train Month, but they discontinued the designation after a few years.
We got the idea of doing a video series from Gary Chapman, who does a hymn per week on his Youtube channel. I didn't want to copy him completely by doing hymns, although I know enough hymns to keep me busy for years. I asked myself, what's another subject that is widely covered in Appalachian music? I soon thought of trains.
I quickly realized after doing a count, that I probably know at least 30 or 40 train songs. Originally, I wanted to do one a day for an entire month. I then realized that even though I have enough material for that, I don't have enough time to film and upload every day. We decided to just do one per week, and that way, we can do the train series annually.
We also decided that every song would be filmed and uploaded in just one take. This would leave some mistakes, but would save time and might lead to performances that were spontaneous. We also decided it would be fun to feature some of our other musical friends and acquaintances, having them join us on songs that they knew of but perhaps had never played before.
Tipper and Chatter had never heard this song before. I told them the chord pattern and the number of beats in each chord and they took right off on it.
We hope you like the series. If you're not a member of Youtube its free to join. Once you have an account on Youtube you can subscribe to all manner of channels, including the Blind Pig and The Acorn Youtube Channel for free.
Here's info on the first Train Song – The Wreck of Old Number Nine
Performed with one half of the Pressley Girls (Chatter) on guitar, and her mom Tipper on Bass in E flat.
I heard Doc Watson do this song in the mid 90's on Wayne Erbsen's "Country Roots" radio program on WCQS in Asheville, NC. It is one of my favorite train songs, mostly because of the lyrics. Doc picked the verse very similarly to how I pick it in this video. He or Jack Lawrence also played the chorus the last time around, which I meant to do in this video but forgot. According to Wikipedia, it was written by Carson Robison in 1927. Other than Doc, the only other version I've heard is Jim Reeves (just heard tonight on YouTube). I don't know if this song documents a real event or if it is completely fiction.
Lyrics: On a dark stormy night, not a star was in sight As the North wind came howling down the line. There stood a brave engineer with his sweetheart so dear And his orders to pull old Number Nine.
She kissed him goodbye with a tear in her eye, And the joy in his heart he couldn't hide. As he left there that night, his whole world seemed right for Tomorrow she'd be his blushing bride.
The wheels hummed a song as the train rolled along, As the black smoke came pouring from the stack. The headlight a-gleam seemed to brighten his dream Of tomorrow when he'd be goin' back.
As he sped around the hill, his brave heart stood still For a headlight was shining in his face. He whispered a prayer as he threw on the air For he knew this would be his final race.
In the wreckage he was found, lying there on the ground He asked them to raise his weary head His breath slowly went as this message he sent To a maiden who thought she would be wed.
"There's a little white home that I built for our own Where I dreamed we'd be happy, you and I, But I leave it to you for I know you'll be true Til we meet at the Golden Gate, goodbye.".
I hope you enjoyed the post from Paul and the video to! Even though I hear his guitar picking at least once or twice a week it still blows me away sometimes.
Be sure to check out the month of the train over on our Blind Pig and The Acorn Youtube Channel. Song number 2 is already up!
Tipper