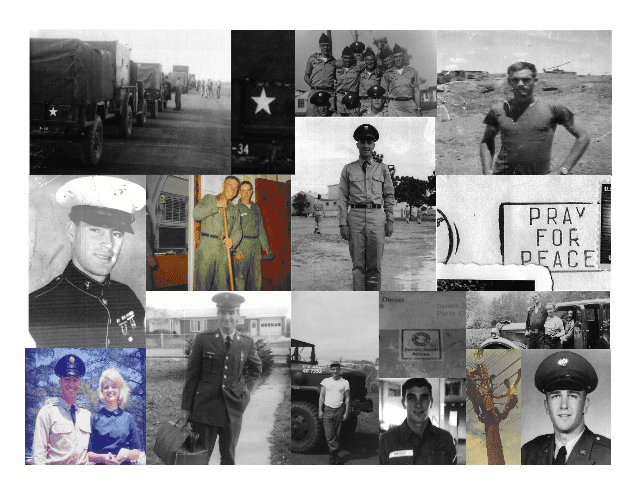 The good doctors at the VA Hospital in Oteen took good care of Pap's medical needs over the years. Whether you're going for a doctor's appointment in the outpatient area or visiting the inpatient floors going to a large VA Hospital is always a humbling experience.
By far the majority of patients at the Oteen VA are elderly men. There are some women sprinkled in and some younger vets too, but mostly it's old men. I was always struck by their voices. Some grown shaky with age; some so strong and vibrant it was easy to visualize them in their soldier boy uniforms standing at attention.
It's funny how the different branches of service seek each other out and sort of eerie how they seem to know if their neighbor in the waiting room is a leather neck, a ground pounder, or fly boy.
Due to Pap's health, I've been at the VA in Oteen for extended periods of time over the years. As I sat in the waiting rooms I would listen to snatches of conversation as families and friends talked of their loved one who were sick.
I also listened in as the Vets talked one with another. You could always hear a man or woman asking the others where they were stationed and what year they served. The answers always brought about talk of rations or meals, of memorable Sergeants, and trips to distant lands. Often the good folks who work at the VA joined in the conversation as many of them are Vets who are still serving, now taking care of those they used to stand beside in the chow line.
After every visit we made to the VA there were always folks who stood out in my mind over the days and weeks that followed. Like the gentleman from Franklin who was discharged at the same time Pap was. We all joked about how we were going in the same direction once we left Asheville for home.
There was the patient in the bed across the way who looked so frail and weak I wonder how long he made it, but knew his wife and daughter would be there to comfort him and each other no matter what happened.
There was the young tattooed janitor who entertained Pap and me with his out going personality and obvious gift for gab. He was in awe of Pap because he was a Marine. He told us he'd never get over having his childhood dreams of wearing Marine dress blues crushed by type two diabetes.
One Vet stands out in my mind from several years back.
He was a tall gangly old man who could barely walk. His daughter helped him shuffle along with a walker. Once he got seated in the chair by Pap they began to compare stories of service. The old man told Pap he was at Normandy and that all four of his siblings had served too. Even his two sisters had been nurses in the war. He said they all come back home except both the sisters' husbands.
What gifts of service the man and his family gave! What sticks out in my mind till this day is the way he talked to Pap about it. He talked like it was just yesterday or last week; like he and his siblings were all still young; like they were recently home after having marched off to war for the good of me.
At Oteen I looked at the old veterans and thought "They made it." Every one of them came back home and the loved ones who hovered around them in hopes that their pain would be lessened is evidence that most of them went on to have a good lives.
My wish for all those who are serving now is that they come home and live long lives surrounded by family and friends who love them and that someday they become the old Vets at the VA talking about their past service with their comrades.
To ALL Veterans young and old – I THANK YOU FOR YOUR SERVICE.
Tipper