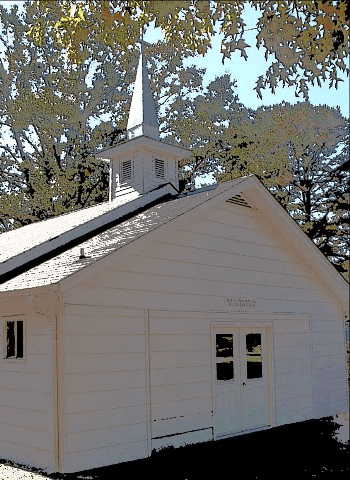 Today's post is a special addition to my usual dialect posts-Appalachian Vocabulary Tests-and Appalachian Grammar Lessons.
I've wanted to do this post since December 2010 when mourners bench showed up on the Appalachian Vocabulary Test for that month. I was surprised most folks weren't familiar with the term. So see if you know these church terms which are common in Appalachia.
Mourners bench-bench or seat placed at the altar of a church and used for calling out to God in need; symbolic for altar. "Let's all gather round the mourners bench and have a word of prayer for the coming revival."
Churched-to expel or discipline a church member for violating the tenants of the church covenant. "Well he surely knew once he ran off with Deacon Holcomb's wife they'd both be churched."
Church house-the physical building where people attend worship services. "One of the worst whippings I ever got was out under the oak trees in the church yard. Granny switched my legs good, because I was never ever to run in the church house."
Prayer meeting-weekly Wednesday night service; also can be a special service called at someones house-usually someone who is sick. "At prayer meeting last night they said old Mrs. Reece had died. I didn't even know she'd been sick."
Brush arbor meeting-revival or special church service held outside usually in the summer months. "We've been going up to Andrews to that brush arbor meeting they've been having beside the 4-lane. They've had the best singing you ever heard."
These are all terms I hear on a regular basis. Back in the day brush arbors were truly made with brush roofs. Even though its still common to hear the term most all brush arbors in my area are tents, but they're still called brush arbors.
Pap says Wednesday night prayer meetings were started during WWII. People wanted to meet and pray for the many men of the community who were fighting in far away lands.
The example I used for Church House-is true. By far the worst whipping I ever remember getting. I wonder if it stands out in my mind because I knew well and good I should never ever cut up in the Church House, but I did it anyway.
Hope you'll leave me a comment and tell me which church terms you're familiar with.
Tipper