Today's Guest Post was written by Ethelene Dyer Jones.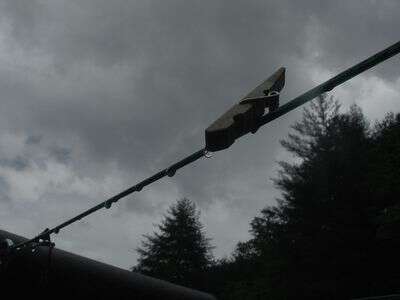 Some Common Folklore and Superstitions Held Among Mountain Folk written by Ethelene Dyer Jones
Are you superstitious?  Maybe most of us would say, "No!" Yet we grew up in an area where certain superstitious sayings were often repeated and believed by some people. Let's take a look at some of them.
"A cat eating grass foretells rain." Whether this is true or not, maybe we should try it out in this dry, hot weather, and see, if after our cat chews on grass, rains come.
"A dog howling at night is a portent of death." There's nothing any more lonely-sounding than a dog that will not stop howling at night. Maybe the dog senses something humans do not. Who knows? It would be worth seeing if someone dear to the family dies after a dog howls mournfully at night.
"Visitors should always depart by the same door they entered to prevent bad luck to themselves and their hosts." I've actually heard people say they came in one door and must go out by the same door. You might be surprised how widely held this belief is.
"Milk or food stolen from a neighbor and fed to a child will cure whooping cough." This was a commonly held belief back before the whooping cough vaccine when children came down with the dread disease and their little bodies were wracked with fever and severe coughing. Just to get the child to eat some "stolen" milk or food was considered a sure cure.
Away from home and homesick? There are two cures for it. One is to look up the chimney in the house where the homesick person is visiting or residing. Another is to sprinkle salt between the sheet and the mattress on the bed he/she is sleeping.
The first visitor on New Year's Day to a home will determine whether the firstborn on that homestead for the year, person or animal, will be male or female, according to the sex of the visitor.
Is one of your children having trouble with a subject in school? An old belief is that if the textbook of the troublesome subject is placed under the student's pillow at night, by morning he/she will know that subject. As a teacher, I can't subscribe to this method of getting over difficulties in learning reading, mathematics or science. I'd recommend master the homework.
Some weather lore holds that the number of heavy fogs on August mornings determines the numbers of snows that will fall in the same area in the winter. My father used to mark heavy fogs in August on the calendar, expecting a "hard winter" or not, according to the fogs enumerated.
Back when children sometimes had seizures, whether from epilepsy or other malady, there was a common belief that "if a child has a fit, turn his shirt inside out and burn it." This action was thought to be a sure cure for "fits".
Here are some that related to death:
An apple held by a dying person until his death, and then after his death given to an alchoholic or habitual drunkard to eat will cure that person of his craving for strong drink.
If a person has a goiter on the neck, he/she should go where there has been a death, take the hand of the deceased, and rub the dead hand over the goiter. This is a sure cure for the malady. (Who wants to try that?)
Back in the days when witchcraft was more common, and some were suspected of being witches, there was a sure sign of whether the deceased was really a witch or not. If a witch, a frog would most certainly hop into the grave while it was being filled. I wonder, has anyone seen this happen?
Here are some more folklore cures:
For all you bald persons out there, have you tried this folklore remedy? For a cure of baldness, rub the scalp regularly with a divided onion cut cross-wise into hemispheres.
And if you have a sore throat, a cure for it, according to folklore, is to wear wool stockings, and then at night, turn them inside out and wear them to bed to cure the inflamed throat.
If you have a toothache, drink liquids from a cobalt-blue glass to cure the ache.
Avoid these bad luck signs, if you can: If a black cat crosses the road while you are traveling, it is a harbinger of bad luck. And don't ever walk under a ladder leaned against the building. That action is sure to bring bad luck.
These are only a few of the folklore signs, remedies and superstitions that have been passed down to us from our Scots-Irish and Pennsylvania Dutch ancestors. Whether we believe in their efficacy or not, they are interesting to read and think about.
————————–
I hope you enjoyed Ethelene's post as much as I did! I've heard most of the ones she mentioned-but not all of them. Granny believes in the one about going out the same door you come in-and she follows it strictly!
How about you-heard most of them?
Tipper