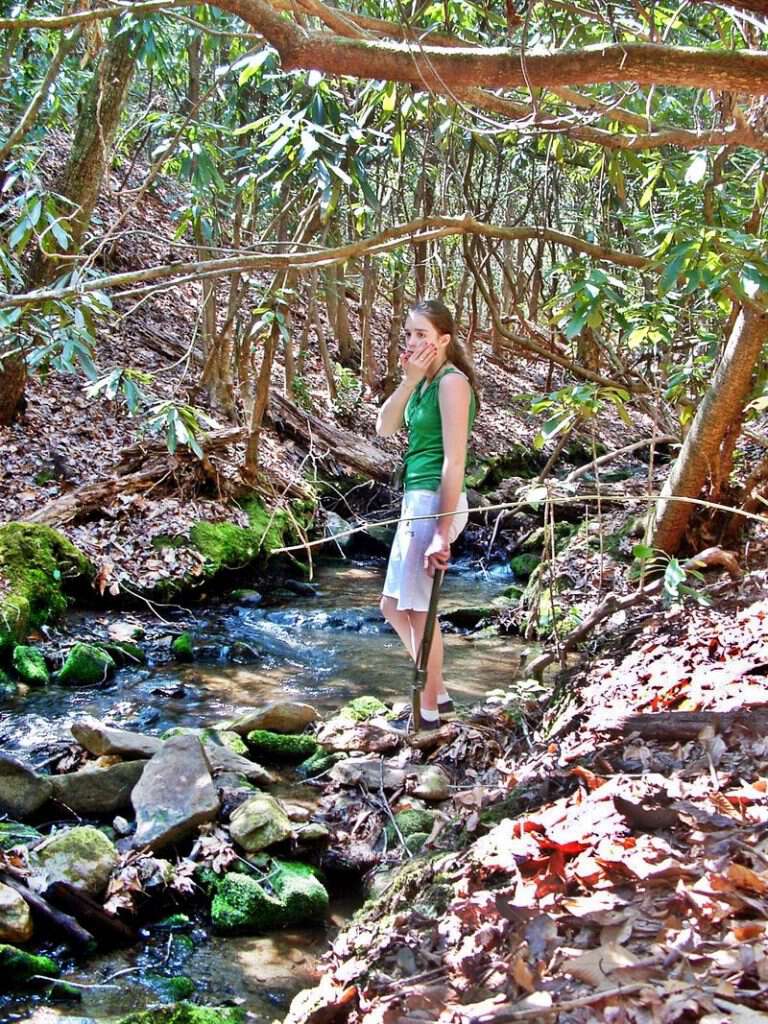 This past summer I fell in love with a new scary song. It all started when Chatter picked up a Josh Williams cd at a thrift store in Black Mountain, NC. Chatter was already a fan of Mr. Williams-but once she listened to that cd a few hundred times she became slightly obssessed.
Remember our trip to Cashiers back in the summer? Josh Williams just happen to be playing on the main stage-and Chatter just happen to get to meet him. After she came back down to Earth she said "You know what? Someday I'll be playing on the same stage he is and I'm going to tell him I met him when I was only 15 years old and it was one of the best things that ever happened to me." I said "That sounds totally possible to me."
The whole cd is great-all the songs are top notch but the song I like the best is The Cave. I couldn't wait to ask Paul if he'd ever heard it.
I said "I found the scariest song ever!" Then he busted my bubble by saying "Oh that's an old Johnny Paycheck song." I said "Well don't you think it's scary?" He said "Well I guess so." Well I guess so-hmph! See if you think it's scary-here are the words:
Last night I had the strangest dream that I have ever dreamed I was a boy again just barely in my teens Wondering through the woods and hills that towered above our town And in the rocks and brush an entrance to a cave I found

And like most any young boy would I crawled into the cave And in the damp dark darkness then I slowly made my way Tunnel after tunnel going this ole way and that Until suddenly I knew I didn't know where I was at

Well I tried to find the way out but it seemed to be in vain The more I tried the more confused and frightened I became At last in sheer exhaustion I collapsed and fell asleep Until the distant roaring sound of thunder wakened me

The thunder boomed the Earth it shook I trembled in my fear Surely this must be the worst storm in a thousand years And all the time the fury of the storm just seemed to grow Until suddenly it ended with a great earthquaking roar

I then began to crawl around and what a stroke of luck I saw a ball of tiny light and so I followed up And soon I crawled out of what I thought would be my grave And what I saw it made me wish I was back down in the cave

For there was not a blade of grass a tree or bush around Not even one small bug a crawling on the parched burnt ground And looking down the hill I saw the shambles of a town Where people used to live before the bomb came down
Watch the video below and you can hear Josh Williams perform the song.
Another song on the cd is Mordecai-if you've never seen the video it is totally worth taking the time to watch. It's not scary at all-well unless you're afraid of birds. Click here to see it.
Tipper
Portions of this post were published here on the Blind Pig in October of 2012.