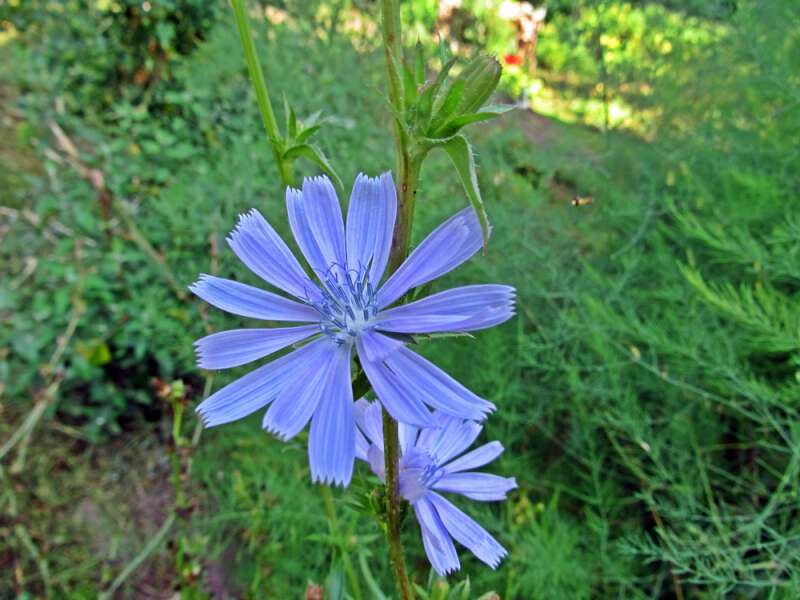 I have Chicory about everywhere along the roadside…the blooms are beautiful blue in the morning. Italian herbs have I…Oregano and Basil for spaghetti pie…LOL I grew the little Mexican Gherkin last year…fun to watch and eat…sort of a sweet/sour taste. Loves the hot muggy weather.
Your post reminded me of this poem…Hopefully not a widow, but me in the future…
"A poor old widow in her weeds
Sowed her garden with wildflower seeds;
Not too shallow, and not too deep,
And down came April drip-drip-drip.
Up shone May, like gold, and soon
Green as an arbour grew leafy June.
And now all summer she sits and sews
Where willow herb, comfrey, bugloss blows,
Teasle and pansy, meadowsweet
Campion, toadflax, and rough hawksbit;
Brown bee orchis, and Peals of Bells;
Clover, burnet and Thyme she smells;
Like Oberon's meadows her garden is
Drowsy from dawn to dusk with bees.
Weeps she never, but sometimes sighs,
And peeps at her garden with bright brown eyes;
And all she has, is all she needs–
A poor old widow in her weeds."
by Walter de la Mare…Peacock Pie
I just love me some wildflower weeds….
B.Ruth ~2015
—————-
I hope you enjoyed the comment and the poem B.Ruth shared back in 2015. I'd say the widow had discovered what it takes to be happy in life: be satisfied with what you've got.
Tipper