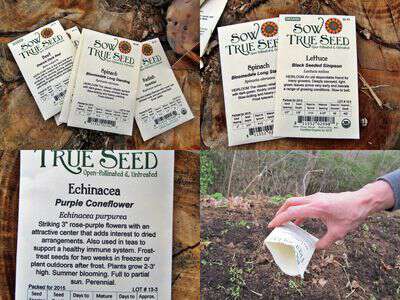 A couple weeks ago, under the fruitful sign of Taurus we got our spring garden planted.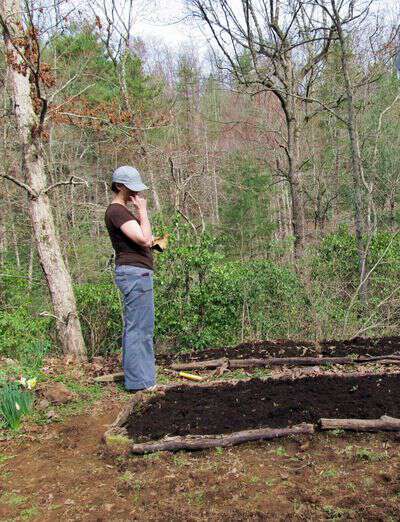 I like to plant my spring veggies in beds. I started using raised beds back in the day because my hard packed red clay yard wasn't the best garden area. It was easier to enrich the soil on top of the ground than try and chip up the red clay. When I first started gardening I would go off into the woods with a 5 gallon bucket and bring back rich dark earthy smelling dirt to add to my beds.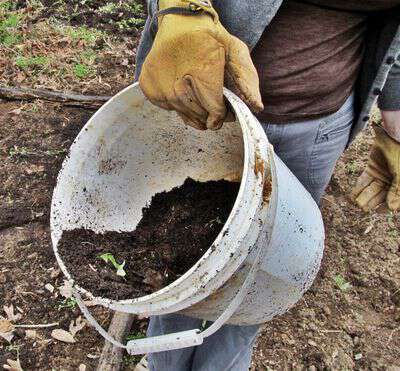 We're fans of mushroom compost and give our beds a fresh covering almost every season. For many years, I gathered fall leaves and added them to the beds just before winter. Come Spring of the year, The Deer Hunter would till in what was left of the decomposing leaves. It took a while, but we finally have decent gardening soil.
Over the years, I've learned you can use pretty much anything to make raised beds. I used to think you had to have fancy pavers or store bought lumber. But as you can see from the photo, we've used limbs to contain the garden beds in the front of the house. The limbs are easy to get since we live in a wooded area and are beyond frugal-since they're free. The limbs/small logs will last a few years before they began to rot.
Years ago I hauled rocks from the creek to line all of my flower gardens with, sometimes I steal those rocks to make raised beds.
Sow True Seed generously sponsored the Blind Pig & the Acorn Garden again this year. Their sponsorship pleases me in so many ways, and at the top of the list is their great seeds.
I always plant Black Seeded Simpson Lettuce. It's a dependable variety, it's tasty, and it's what Pap and Granny have always planted.
To plant my lettuce, I use half of one of my longer beds. I make sure the soil is well tilled and then lightly smooth the top of the bed. I broadcast the lettuce seed as evenly as possible over the entire bed and then I lightly sprinkle a few handfuls of dirt on top. Lettuce seeds are so tiny that you don't really have to cover them very much. Once the first rain (or watering) hits the beds the seeds will sink down far enough to germinate.
Pap said his mother always burned brush on her lettuce bed before planting. He said this warmed up the soil and killed off any weeds that had gotten started. I remember Pap burning his lettuce bed before I was married, but I don't think he does it now.
After a few weeks, I'll plant another pack of lettuce so that it doesn't all come in at once and we can enjoy fresh lettuce for a while longer.
I'm partial to Bloomsdale Long Standing Spinach, and I plant it almost the same way I do lettuce. With the only difference being, I cover spinach seeds a little more deeply since they are a larger seed. Sow True Seed says you can over winter this variety of spinach if you plant a fall planting, but I haven't tried it yet. Somehow I think of spinach as a Spring plant and not a fall one.
I love radishes! Do you? The girls and The Deer Hunter don't like them at all…secretly I'm glad they don't because that means I get to eat them all.
I plant radishes in a bed too. I smooth the top of a tilled bed and then use the handle of my hoe to make shallow rows. I seed the row and then cover completely. After radishes began to come up, you need to thin them out a little. I know thinning the plants is necessary but man it is hard to pull them up! On the plus side, you can eat them as you would greens or make your chickens very happy by giving the thinned plants to them.
I've tried all sorts of fancy radish varieties but always have the best luck with Sparkler.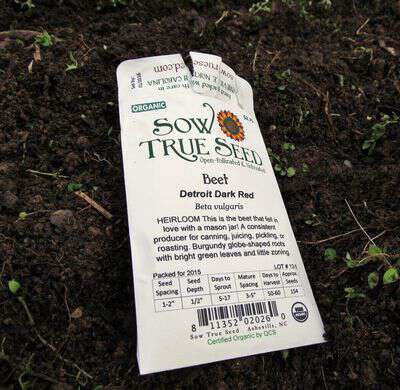 We've tried lots of beet varieties too, but none compare to Sow True Seed's Detroit Dark Red. I plant beets like I do radishes, except I make the bed much deeper to make room for those lovely globes of beets. Beets need to be thinned once they come
Beets also need to be thinned once they come up-which can take forever! The first time I planted beets I thought the seed was bad-it wasn't it just takes them longer to sprout than most other veggies.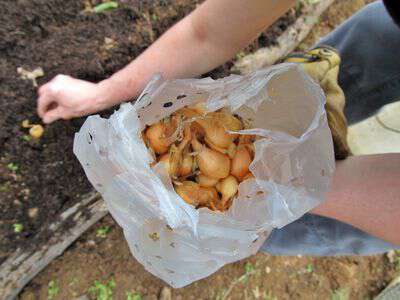 Our onion buttons go in a raised bed that's been tilled and smoothed over. I make rows; push the onions in; and cover them completely. We eat most all of our onions as 'green onions' rather than growing them all summer and storing for winter use.
Over the last 15 years of growing a garden I've found one ultimate truth: there is no one right way to grow a garden. Each person's soil is different,
Each person's soil is different, their local weather is different, and each person's preferences are different. BUT I've also found growing your own food is one of the most rewarding things you will ever do. I encourage you to grow a garden-even if your garden is a pot of lettuce sitting on the deck.
Tipper