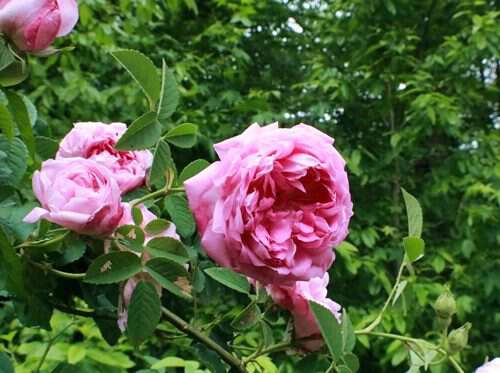 Granny Gazzie's rose is in full bloom and perfuming my yard with it's sweet scent. I have it growing in three different places. Now that I think about it the roses form a triangle around the Blind Pig house.
The other day I noticed someone had cut two blooms and placed them in a jar of water on my desk. I knew Chatter had been home that day so I assumed it was her. I was wrong it was The Deer Hunter and he says he tried to tell me it was him but I wasn't listening 🙂
The rose is an old fashioned variety and only blooms once a summer. Even though the blooms quickly fade it's the prettiest color of pink I've ever seen and the smell is just amazing.
I wonder what Granny Gazzie would think if she knew a cutting from her rose bush was enriching the life of her granddaughter's family all these years later. If the rose came from her mother or grandmother I wonder if she had the same thought while pondering the beauty of the rose.
Tipper
Appalachia Through My Eyes – A series of photographs from my life in Southern Appalachia.
Subscribe for FREE and get a daily dose of Appalachia in your inbox