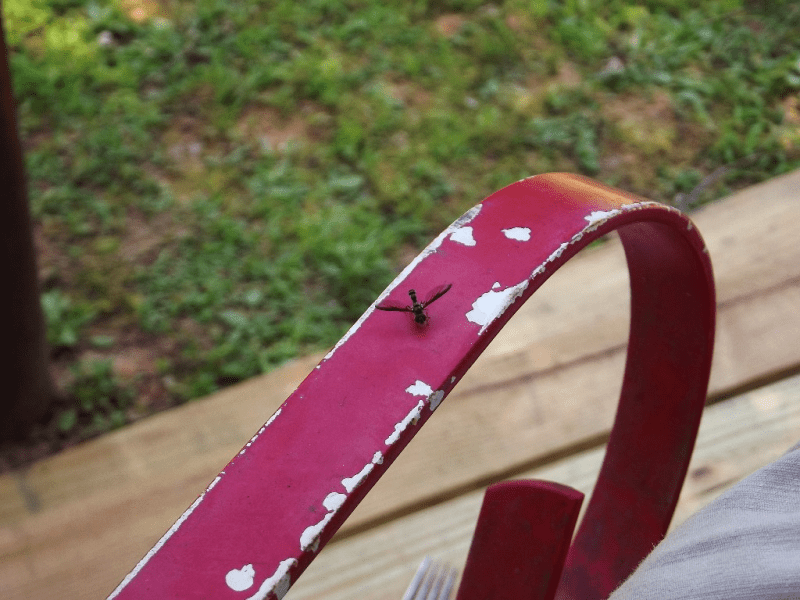 I was sitting out back watching the world go by when I noticed a News Bee hovering around me. Well I thought it was a News Bee until I loaded the photos I snapped of it.
While I was looking at the pics I remembered the news bees I was familiar with as a child were yellow and black. I asked The Deer Hunter and he agreed he thought they were yellow and black too. Oh well I thought I'll keep my eye out for a real news bee.
In the mean time I found a post on Appalachian History about News Bees which says there are black news bees and yellow news bees. Who knew!
According to the post from Appalachian History, yellow news bees are a sign of good luck, while black news bees are a sign of imminent death-yikes!
The folklore I learned as a child: News bees hover around close to folks, even seeming to look into their eyes at times, because they are listening. After listening to the latest news, the bees take it back through the community sharing the information along the way.
When I was little, I watched news bees and wished they could tell me all the secrets they had overheard that day. I imagined them flying to and fro with a little rolled up paper where they had written it all down lest they forgot something they had heard.
Tipper
Appalachia Through My Eyes – A series of photographs from my life in Southern Appalachia.