Today begins a short series of posts written by Ron Stephens about his father-in-law Harvey E. Corder and the Blue Heron Coal Camp located in Kentucky.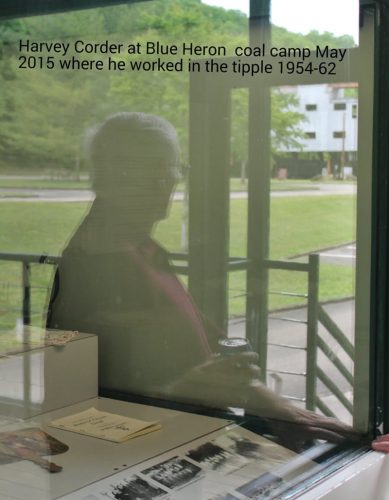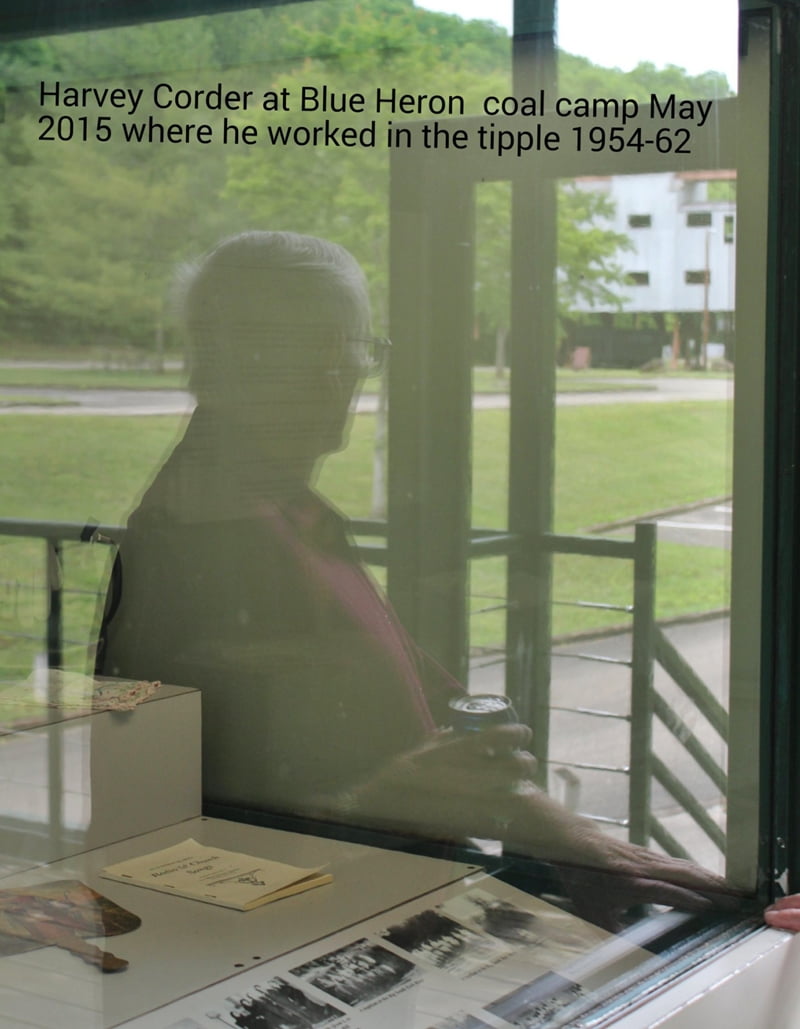 Reflections written by Ron Stephens
Dedication
I respectfully dedicate this story to my father-in-law, Harvey E. Corder, who lived it. I have tried to make it as true to life as I could as to actual events. Whether or not his own reflections are the ones I take license to give him I cannot say but I believe that though they might differ in specifics they are at least in general agreement.
And
I dedicate this to our descendants, as part of their family heritage. I hope they find these pages and – having found them – also find them interesting and instructive.
And
To those who went before and did their part in their time to make us what we are and to have what we have been blessed with. May we ever respect them as we hope to be respected in our turn.
Introduction
The names of individuals, where given, are those of the actual participants in the events. I considered this important to memorialize them in this family story for family members. The events themselves are also real and I have told them in their chronological order, as best I know it.
Place names used are always for real places and are their real names. The Eighteen tipple and Mine 18 camp are now within the Big South Fork National River and Recreation Area administered by the National Park service. The web site for the BSFNRRA is not difficult to find. Old Barthell has been partially restored by descendants of one of the miners who lived and worked there. The deserted Justus mine entry remains on company land. An excursion train that travels from Stearns, Ky to the Eighteen camp and tipple passes the site of the Justus Mine and through the partial re-construction of old Barthell.
Distances and directions are true. The conditions and situations described are true as well. My intention throughout has been to be both accurate and precise. I have taken very little license with the facts. The title of the song in the hymnal is one such. And the remembered pink sheetrock wall is my own memory. I do not think there are any others. I apologize, in advance, for any errors of fact discovered hereafter.
The picture used as the cover is a picture of Harvey Corder in May 2015. I took it. I realize that it is not particularly good. I was in haste to capture his look of remembering as the most important thing. That look and the picture was the beginning for all that follows. He really was standing in the ghost structure for the church at Eighteen.
—-
I can tell by his far-away look his thoughts are not here. They are not with me, his son-in-law, nor with my wife, his only daughter. He wanted us to come; to show us, he said, how the tipple worked. I understand he really wants to tell us about himself, how he worked the tipple. I know something else he didn't say, 'before it is too late' or maybe 'while I still can'. I know it because it is why I write this. But there is much he will never say to either of us. Once, years ago, he told me his Mom (a tall, straight, gray-eyed, reserved woman of presence) warned him against letting people get too close. So he doesn't. We are alike that way. There is an Appalachian silence between us. We fill in the blanks for ourselves, rightly or wrongly.
I wish I did know just what he is thinking, so I could put this down in his own words. Of course I can't. My mind doesn't even supply the right words anymore for the way we talked, and he still does. Much of the deep relationship with this place and these people I once had has become lost to me. Some of it was by the choices I made. Some has been by the changes that have come in mine and his life that we could not help.
Still, I sort of think I know where he is in life. He wants a legacy, as I do. Yet his personality is different. He does not think just like I do. I will get some things wrong, filling in what I do not know with my own thoughts and my own words as if they are his. I should probably leave it alone but I want to give him a voice, even if only a flawed one. I will try to let him speak for himself, the ideas anyway. In a way, it is both of our stories. We span different eras, different work and different experiences. Yet they each tended toward the same end. Maybe the voice can only be ours.
He is standing in the ghost-shell built over the foundations of the old church. I take a picture of his reflection in the glass, a fitting allegory. Like this story and like our lives, the reflection and the picture are imperfect. The pop can in his hand is a jarring note. Had I had more time, more knowledge, more skill I would have made it better. I would have done the same in my life until now. I expect he would have to. As we all know, hindsight is twenty-twenty. Anyway, knowing what I know of his life, the picture I did take was a good fit in many ways. This is his story behind the picture.
—–
I am standing where the old church once was, looking out at the old tipple. There are three of me because I am badly reflected twice in the display case; once from the front and again from the side glass. They don't match so I am blurred. I can't see the man I was in that reflection. My hair is silver now where once it was dark and I weigh thirty pounds or more than I did then.
I preached a revival here once. There was one girl saved. I think the pastor baptized her in the river below the church later on. I wonder if she is still living, how her life turned out, if she stayed true. I wonder about all of them, down through the years. I'm like John. I have no greater joy than to know my children walk in truth. No, nor much greater sorrow when they didn't but there has been a grace along the way to lay some burdens down. I cannot live someone else's life. Mine is burden enough.
Inside the case is a group of well-remembered things. They are not mine but each have been a big part of my life. I guess local people donated them, part of their legacy. For me, each one of them has memories attached.
There is an unopened, worn and faded King James Bible. I have worn out a bunch of them in my time. The black leather cover is now gray and the once-red page edging has faded to pink. It looks well used. I wonder whose it is and how they could give it up. I wish they had left it open. I could show them so many verses to fit these circumstances and give people a thought to take away. Maybe the one about remembering this house in its former glory and asking, 'How do you see it now?'
Beside the Bible is a copy of the annual Big South Fork United Baptist Association minutes from the 1960's. I expect I was there that year. I usually was in those days. They were good days, better than we knew at the time. I think the Association has gone inactive now.
There lies a paper funeral home fan on a stick. They were our air conditioning back then. We propped the windows open with a stick, opened the door and used the fans. I can remember looking back through the church and seeing them flipping all over the house. I don't hardly ever see them anymore.
I can see some black and white pictures I know are church groups. Somebody took them here, mostly on the high front steps of the old church. I can't see well enough to tell if any of them are people I knew but I expect some are.
Over to the side, an old hymnal lies open to the song 'Time Has Made a Change'. I wonder if that was by accident or did someone really choose it for its meaning? I doubt if the Park people know that song. If they do, I doubt they have lived its meaning like I have. One stanza says, 'I am not today what I used to be. Time has made a change in me.' I can see it in my reflection.
I can't even remember now the name the old church was organized by. I wish I could. We just called it 'the church at Eighteen'. There was only one Eighteen and only one church in it just like there was the one store and the one school. To say 'Eighteen' said all that was needed. I just remember it as a living church, even though the camp was dying. There was a good spirit here in those days. We lived out our faith toward one another and lived by faith for the future. We depended on our faith all the time, but especially in the hard times. There had been plenty of those and we knew to expect more. So much of our life was out of our control. That hasn't changed, except maybe to get worse.
This is not really a church, not even a church building. I wouldn't think of calling it a church. It is only a dead suggestion, a sort-of tombstone for a church. The place has no sanctification. The people had that, beginning with the ones who built it with their own money. They were the real church and they are gone, most of them from the earth and many of the few remaining scattered far away. There was never even any room for a cemetery down here so even the dead left the camp. The church was just barely squeezed in below the tracks and in the edge of the spring floods as it was. Well, except this whole place is a cemetery in a way, not one for bodies but a cemetery for the high hopes.
—-
Be on the lookout for the next part of the series "Reflections."
Tipper
Subscribe for FREE and get a daily dose of Appalachia in your inbox