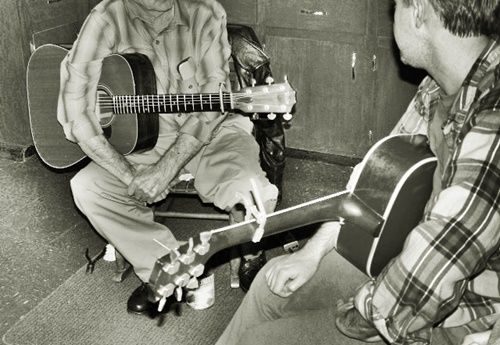 Pap and Paul – 2008
Granny wasn't the only one who had a birthday. Blind Pig and The Acorn turned eleven years old last week.
When I say eleven years out loud I wonder how in the world I've managed to keep blogging for so long. A fellow blogger sent me a congratulatory message: "You've been leading Blind Pig for 11 years?! That's like a century in blog years. Huge congrats. Hope you're well."
He's right, most blogs don't last near as long as this one has. The reason behind the longevity of the Blind Pig and The Acorn is my great passion for Appalachia. I truly believe its the best place in the world and I feel a strong calling to make sure others know the real Appalachia instead of the cardboard cut out that's often held up as an example.
The eleven years I've been blogging have flown by at warp speed. It seems only yesterday we were filming our first "Pickin and Grinnin in the Kitchen Spot."
The Deer Hunter and I got the girls a small digital camera for Christmas and by March of 2008 they were experts at using them. They slap wore out those cameras. They used them like folks do smart phones today. They were always taking photos and recording their own silliness.
I bought a camcorder and filmed a few videos of Pap and Paul singing. I still wasn't sure how I wanted to proceed with the Pickin and Grinnin in the Kitchen Spot, but I knew it would all fall into place eventually.
One Sunday afternoon I filmed a few songs and then sort of sat down to rest while Pap and Paul went over some other songs. Chatter and Chitter were there with their cameras and wanting to capture the music they both videoed the song "El Condor Pasa" with their small cameras. We all had a good laugh at how serious the girls were. Pap said he thought Chitter was going to put the camera up his nose before the song was over with.
After we were finished practicing we headed for home. Later that evening Chitter said "Momma you ought to look at my video it's good."
Chitter's video was good! It captured us just as we were. Paul, Pap, Mark, and Ben playing music, Chatter walking around in one of Granny's crocheted hats with her own camera and me sitting in the background.
Paul and I teased Chitter she must have been emulating a MTV videographer with all the shots of their feet. Yet along with the feet shots, she managed to get some good shots of Pap's hands and face and of Paul's picking.
I hope you enjoyed this peek back into the first days of the Blind Pig and The Acorn. In one way I wish Chitter's video was filmed with a real camera so the quality would be better and that she hadn't of swarped the camera around so much. But in another way I think the video is just perfect and I wouldn't change a thing.
Twelve year old Chitter captured a period in time that was remarkable. The kids were all still young and at home, the Blind Pig and The Acorn had just been born, and best of all we were all there together on a Sunday afternoon enjoying music and fellowship.
Tipper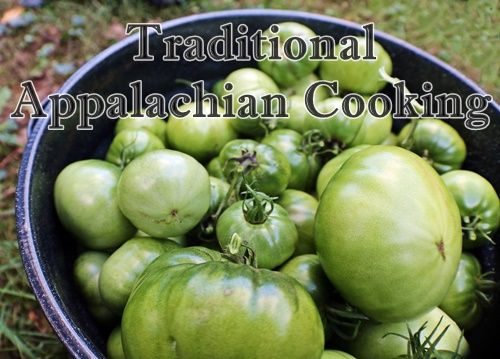 Come cook with me!
MOUNTAIN FLAVORS – TRADITIONAL APPALACHIAN COOKING
Location: John C. Campbell Folk School – Brasstown, NC
Date: Sunday, June 23 – Saturday, June 29, 2019
Instructors: Carolyn Anderson, Tipper Pressley
Experience the traditional Appalachian method of cooking, putting up, and preserving the bounty from nature's garden. Receive hands-on training to make and process a variety of jellies, jams, and pickles for winter eating. You'll also learn the importance of dessert in Appalachian culture and discover how to easily make the fanciest of traditional cakes. Completing this week of cultural foods, a day of bread making will produce biscuits and cornbread. All levels welcome.
Along with all that goodness Carolyn and I have planned a couple of field trips to allow students to see how local folks produce food for their families. The Folk School offers scholarships you can go here to find out more about them. For the rest of the class details go here.
Subscribe for FREE and get a daily dose of Appalachia in your inbox