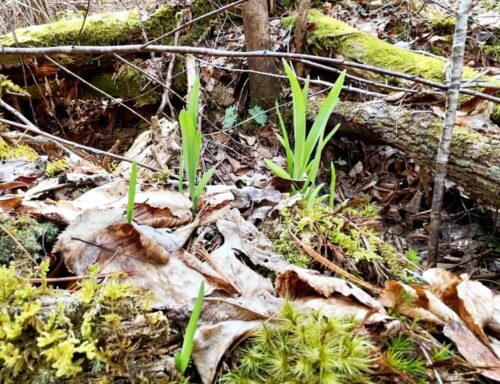 "Plant connections to both people and place are a wonderful part of Appalachia. We've got day lilies (Daddy called them cow lilies) and japonica here at the house which came from the old home place on Juney Whank Branch. I know of other folks who have retrieved roots or bulbs from old home places as well.
At the Bryson City Cemetery, there are dogwood and redbud trees, yellowbells, marigolds, zinnias, dahlias and jonquils which we've transplanted from either our house or other folks have given us. There are some jonquils which traveled with the Bryson family from here to Durham to Olathe, Kansas, where Dan Bryson, great-grandson of our town's namesake now lives. When he dug them up last year, he sent a box of bulbs to me. They're now at the graves of his forebears.
Maybe a decade ago, some pumpkin seed which came from Chambers Creek (which has been in Park for over 3/4 century now), was given to me by Christine Proctor, whose husband Troy grew up near Chambers Creek. I planted them here and had a fine crop of a particularly good-eating pumpkin. I bragged about it to Tipper and gave her some seed. I always had volunteers, so quit saving seed until last year, there were no volunteers. So I asked Tipper for seed, since I'd given her some. She mailed them to me and now there are some fine pumpkins whose forebears traveled from Chambers Creek to Bryson City to Brasstown and back to Bryson City.
In different sections of the Great Smoky Mountains National Park, there is abundant evidence of neighbors sharing plants. For example, on Noland Creek, with one exception, every jonquil to be found is the double jonquil variety. We'll never know who started it, but clearly the first person who planted them dug up the bulbs to separate and replant, and that's when they began to spread throughout the drainage. 
Plants are living testimony to those gone on before."
—Don Casada
---
I was reminded of Don's comment when I found flowers growing at an old homesite up the creek last weekend. I brought home a couple for me and one for Granny. I'm guessing they are the common orange day lilies you see growing along highways throughout the south. No matter the color of the blooms I will love them, for as Don said they are a living testimony to those who walked the woods before me.
Last night's video: Favorite things to Use in the Kitchen – Part 1.
Tipper
Subscribe for FREE and get a daily dose of Appalachia in your inbox