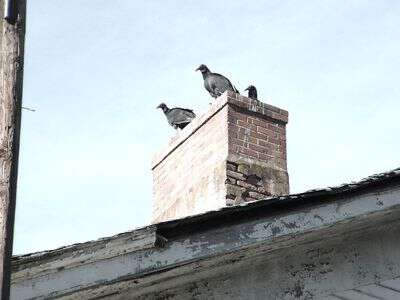 Ever heard stories about a buzzard that flew around wearing a bell? Here's an old newspaper article detailing one such instance: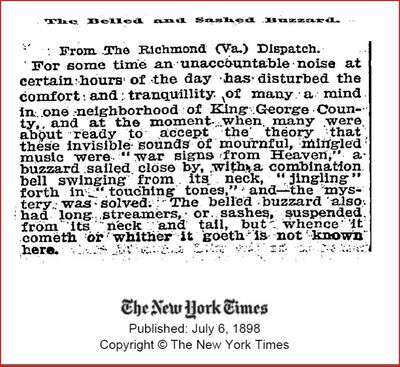 My first introduction to belled buzzards was from Gary Carden's book Belled Buzzards, Hucksters, and Grieving Specters: Appalachian Tales: Strange, True & Legendary. Since I first read about them-I've discovered belled buzzards have been seen in several states-Virgina, North Carolina, South Carolina, Alabama, Arkansas, and Tennessee.
Most of the sightings or 'hearings' caused folks to believe the belled buzzards foretold death. One legend even tells the story of a belled buzzard harassing a man after he killed his wife. Finally the  man could take no more of the belled buzzard and turned himself in for her murder.
As I was researching the subject I found this explanation from Arkansas:
http://freepages.genealogy.rootsweb.ancestry.com/~rkinfolks/stories/evafosterverdun.html
The link details a correspondence between folks discussing the phenomenon of the belled buzzards seen in Arkansas. The lady tells of her brothers bringing home a couple of buzzards to keep as pets. Their mother nixed the idea and made them let the buzzards go. Before turning them loose the boys tied bells on their necks. Makes me wonder if all the other belled buzzard sightings were the result of would be pets gone awry.
Have you ever heard of belled buzzards? I imagine it would be an eerie sound to hear one as it flew over the house.
Tipper
This post was originally published here on the Blind Pig in October of 2009.