Today's guest post was written by David Templeton-David also furnished the photographs.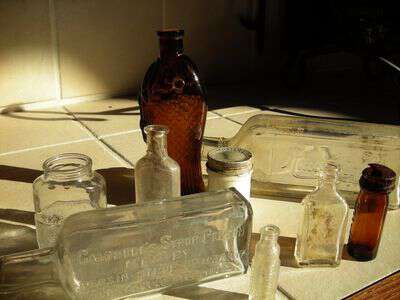 A Junkie's Thoughts On Trashpile Archaeology written by David Templeton
Most people don't spend a lot of time pondering trashpiles. The refuse service comes and picks up the garbage and it's out of sight, out of mind. But, until garbage removal and city dumps became common, household trashpiles were necessary features with any home. Even prehistoric people had trashpiles for bones and broken tools; archaeologists love to find them.
In our time, out in the country, where most of us lived, the household trash pile was usually quite close to the house, down over the bank, maybe, and if one knows the place where a house set, the trash pile can often be found with some determined searching. That is, if you do stop and wonder where you can find an old trashpile.
People who do look for old trashpiles know that there are two kinds of trash piles; pre-plastic and plastic. Trash piles with no plastic are usually relatively old; seventy years and back beyond. Most contents of a trash pile were, of course, the same as today's trash: discarded packaging or containers such as tin cans, glass bottles, jars, etc.; or things that got broke. The contents of containers were consumed and the box, wrapper, can, bottle, got thrown in the trash and then to the trash pile. Things were thrown away because they were packaging or they were items that got ruined and became useless. Dope bottles such as Royal Crown Cola or Grapette bottles were taken back to the store for the deposit.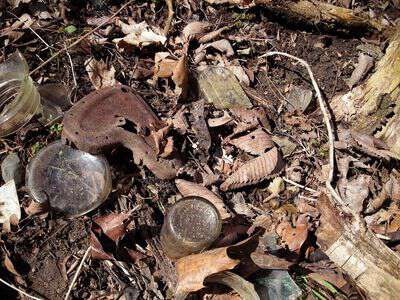 Glass containers, bottles, jars, etc., usually get water in them, the water freezes and the bottle bursts. Tin (steel) cans rust and rot away. Paper and wrappers decompose. In austere or thrifty times, say in the 1930s household, useable containers (jars, wide-mouth bottles, etc.) were horded for keeping buttons, butter and egg money, homemade tinctures, etc.
One seldom finds an item that can be used again or is of any functional value. Yet, almost every shard of glass or dish or piece of crockery holds its own intrigue and specialness; yes, even information about the people once there. So, it turns out that, for me, digging in ancient trash piles is a kind of archaeology, I suppose.
When I dig in an old trash pile I find mostly broken glass pieces, broken crockery or broken bottle pieces or the bottoms of fruit jars and bottles; worthless, except to the imaginative mind. Careful pondering of the shards, jar bottoms, and other marked or identifiable debris, can reveal a lot about the people who dumped there. Even from a very old trash pile, one may discern if family members used patent medicines, if they had children, if they had a garden, had a baby, if they made kraut or pickles; if the kids had kiddie cars or tricycles, if they kept a cow or got their milk delivered in milk bottles. It's hard to say if they drank whiskey because drinkers were generally shunned by the women and children, so they hid their ways and threw the empties down the toilet hole.
With some thought and imagination, one can usually tell the approximate period the family was there; the kind of shoe sole, the kind of bottled remedies, the age of the fruit jar bottom; whether or not there is any sign of plastic, etc.; if any cans remain, the style of the Johnson's Wax can or the Log Cabin syrup tin, the number on the coal bucket.
A small piece of a plate or a platter I found last week had "Tudor Rose" glazed into its bottom finish. Dating Homer Laughlin's Tudor Rose pieces is not easy. The name goes back many decades. But my urge goes beyond dating the piece to imagine the hurt or sadness when that prized platter fell to the floor and broke or the skulking that a boy had to do to hide the pieces and hope some time went by (say, all of the childhood period) before Mother missed it.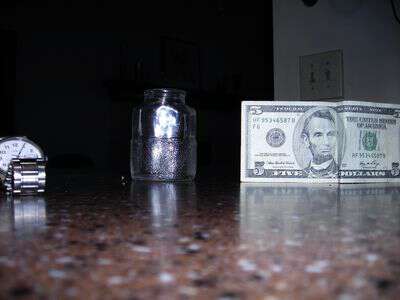 Sometimes I find glass items that are not broken; a fruit jar, a patent medicine bottle or a Bromo Seltzer bottle; maybe a snuff glass or a paregoric bottle, a cold cream jar or a Musterole jar. One of the pictures shows a beautiful little bottle I found last week (the watch and money are there just for size perspective).
Very old antique bottles were usually embossed, their names and lettering raised on the bottle's surface. They had a cork or stopper finish ("mouth"). Their bottlemaker had not yet combined with another company. One can tell which glass plants (Owens, Libbey, Illinois Glass, Atlas, Anchor Hocking, Fairmount, Ball Brothers) made them and get some time frame from the mold number or the date code.
Now, what's all that matter to anybody? To most of Mankind, trashpile digging is as about as exciting as a bag-tie. So, why do I do it; dig in old trashpiles that is? Lord only knows. It's personal. Nobody's business, unless you want to talk about a similar yen you have. Those of us who do it don't talk about it much and lots of people don't want others to know they do it, but thanks to Blind Pig and the Acorn, and given like-minded buddies, those who do trash pile digging aren't ashamed to tell about their treasures and their intriguing fetish. But, only those who do it really understand.
—————————
I hope you enjoyed David's post-since I'm a dump digging junkie-I loved it.
Tipper