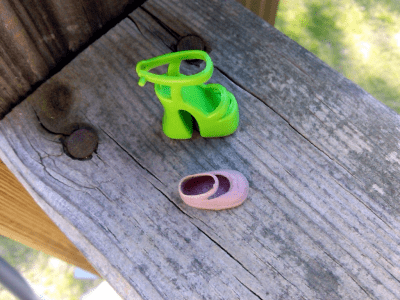 The girls have long outgrown their childhood toys. Like sentimental me-they decided to hang on to a few of their favorites-but the rest were donated along the way.
The other day Chatter and I were in my room. She sat on the edge of the bed waiting patiently for me to plait her hair. I was running around trying to do 10 things at once. Just as I stepped up to the bed to start braiding, I dropped the hair band I had in my hand. It rolled under the edge of the bed. I bent over and swiped my hand under the bed to pick it up. Instead of the hair band I came up with a green high heeled Barbie shoe.
I held out my hand to show Chatter. We both said where did that come from? We recognized the shoe-it was one of a pair the girls used to try and squeeze on their Barbie doll's feet. My mind instantly turned into a slide-show. The barbie dolls, the dresses, the shoes, the barbie doll furniture made by Granny, and 2 sweet chubby cheeked girls went flying through the pictures in my mind. Seems like only yesterday one of the girls' biggest concerns was whether or not the barbie furniture would sit upright when they placed their dolls on it. Now they're counting down the days (less than 30) till they graduate from high school.
Later that same day we stopped by Clay's Corner to pick up a microphone for Pap. I sat in the car and sent the girls in to talk to Clay. In just a few minutes the girls were back. Chatter climbed in the car and held her closed fist out to me. I said "What is it?" She said "You'll never guess."
Her fingers spread wide revealing the tiniest doll shoe sitting in the palm of her hand. It wasn't a high heeled barbie shoe-it was the type of shoe a baby doll would wear. I said " Where did you get it?" Chatter's sharp eyes had spotted the shoe laying in the parking lot of the gas station. Chatter and I loved the coincidence of finding 2 small doll shoes in the same day.
As we pulled out on the highway headed for home I couldn't help but wonder if the tiny shoe from the parking lot was connected to someone else's slide-show of memories.
Tipper
Appalachia Through My Eyes – A series of photographs from my life in Southern Appalachia.