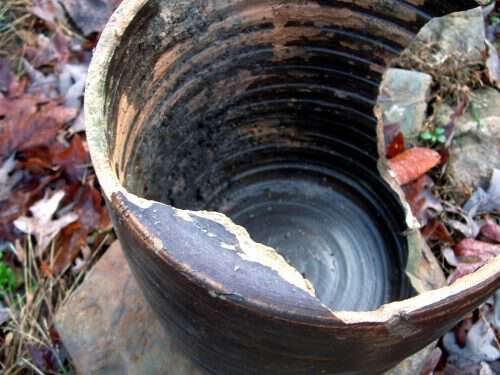 B. Ruth suggested I contact the Museum of Appalachia about the old piece of pottery The Deer Hunter found. I did-they put me in contact with Gene Purcell. Gene was a friend of John Irwin Rice (founder of the museum) before the Museum of Appalachia was ever founded and has aided greatly in the Museum's development.  Over the years, Gene has volunteered at the museum, served on it's Board of Directors, and currently serves on the Board of Advisers.
This is what Gene had to say about the piece of pottery:
Your item is not a milk crock it is a rundlet. A rundlet is a closed crock with a small hole in one end near the edge for a spigot and somewhere on the side would be a hole to fill it. A rundlet is a one piece enclosed crock used to dispense water, cider, wine or any liquid, most of the time it would have a small wood spigot to dispense what ever was in it. These were not real common in Appalachia more so up north, but most all potters in the area made them just few in number.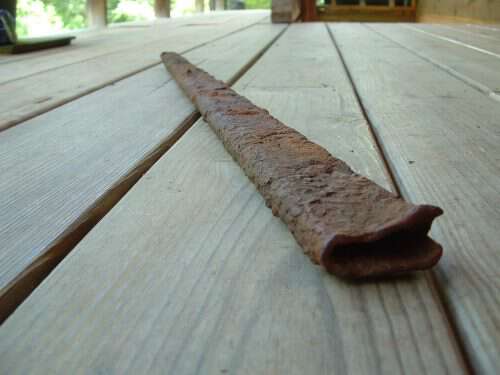 Remember the sword scabbard I found back in the summer? I ask Gene to take a look at it and see if he could tell if it was from the Civil War. This is what he said:
From your photo I can't see if it has a curve or not it appears to be straight if so that rules out a Calvary saber but if it is 29″ long and straight that fits the 1860 staff officer sword used in the civil war but continued in production many years after on into the 20th century but still a great find.
The scabbard is straight and it is 29 inches long-so maybe-just maybe it is from the Civil War-and how cool is that!!
Tipper
p.s. Remember me mentioning Guitar Man (my oldest nephew) had a meeting with Yale for a scholarship? He found out his week-he was accepted for a full ride at Yale-I mean they'll even pay for his way home once or twice a year. Not bad for a boy raised in a holler in the Southern Highlands of Appalachia uh? Seems it was only yesterday he was asking Auntie Titter to take him to pet Old Paint the horse. To say I'm proud of him-is an understatement.