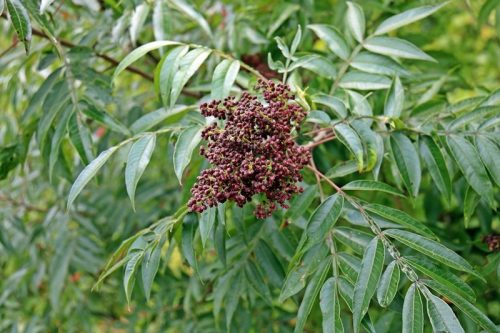 Red Shoe-make (Sumac)
Last Saturday's "Overheard" post left a few of you scratching your heads. Sumac, which I've always heard called Shumake or Shoe-make, has two varieties: red and white.
Red shoe-make (sumac) is the plant that is used as a spice or for medicinal purposes. It has a lemony flavor. White shoe-make (sumac) is the plant that is poison and is often the cause of the irritating skin aliment you hear folks talk about-think poison ivy on steroids.
Shumake noun The sumac bush (Rhus glabra). Its bark is made into a preparation to treat burns, and its blossoms and fruit are used for a tea drunk as medicine or for refreshment and called sumacade.
….1927 Thornborough Tramping 466 He also told me that the mountain people call hemlock "spruce pine," the black spruce "he-balsam," the Fraser balsam "she-balsam," the sumac "shumake," the butternut "white walnut," while cucumber is humorously called "cowcucumber." 1936 LAMASAS (Madison Co NC, Swain Co NC). 1966-68 DARE = causes itching and swelling (Brasstown NC, Burnsville NC, Cherokee NC, Spruce Pine NC). [1971 Krochmal et al. Medicinal Plants Appal 214 The dried ripe fruit of sumac is valuable as a source of tannic acid. Preparations of these fruits are effective as astringents, anti-diuretics, and tonics. In Appalachia, leaves are smoked to treat asthma.]
Dictionary of Smoky Mountain English
Pap told me about getting into shoe-make when he was cutting wood with Clyde Ashe. Pap said Clyde tried to warn him, but Pap thought the plant wouldn't bother him because he'd never had poison oak. He was wrong! He said he was so miserable he thought he wasn't going to be able to bear it. He couldn't even stand to have his shirt on.
I think other folks have heard or witnessed stories like Pap's run in with poison shoe-make and that makes them terrified of the good, or red shoe-make leading them to believe anyone who's interested in gathering it to ingest must be in a hurry to hasten their death and meet their Lord.
Tipper
Subscribe for FREE and get a daily dose of Appalachia in your inbox