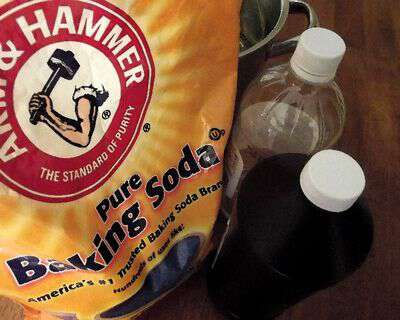 Do you like to clean house? Maybe I should rephrase the question-do you like to have a clean house? While most of us may not like to clean-I'm sure we'd all agree we enjoy a clean home.
Personally-I do like to clean house. Years ago when I first became a home owner-I loved picking out my cleaning supplies. I read all the labels to see how tough the product was on germs and grime-but more important to me was the smell. I had a love affair with products that smelled good. Kind of like the corny commercials where a lady dances through a meadow of flowers with her mop in one hand and the cleaner in the other- yep that lady was me.
The reality of becoming a stay at home Mom-with no job-threw a bucket of ice water on my love affair. All those delightful scented cleaning products come at a high price. It didn't take me long to realize I could buy an extra pack of diapers for my twin daughters or I could buy the latest wonder cleaner with the incredible fragrance.
I first saw the merits of using Vinegar as a cleaner on a daytime talk show. At the time I had 2 babies crawling through my house-or I should say 2 babies who loved to lick the floor crawling through my house-so using a water vinegar mixture to mop the floors was especially attractive to me.
As you know, vinegar doesn't smell all that great (remember my love affair)-but I found out early on-that I could improve the scent by adding a few drops of my favorite essential oil. Once I started using vinegar to clean with-I discovered very quickly that it worked as well as commercial cleaners-if not better. And with my little sweet floor lickers-it was a relief to know they were only ingesting a minuscule amount of vinegar with essential oil-instead of chemicals that warned of dire consequences if they were misused.
My girls are 13 now-and over the years my cheap cleaning arsenal has enlarged to include not only vinegar but peroxide, alcohol, baking soda, and borax-all of which are tremendously cheaper than my old flame 'the smell good cleaning product'.
I can't imagine how much money I've saved since my pre-children love affair with fragrant cleaners ended. And-back in the day who knew-my frugal cleaning would also make me pretty cool with the Green Movement in full swing. If you've never tried any of the alternate cleaners I mentioned-I urge you to give them a try. What can it hurt? If you don't like them-you can return to your usual cleaner-but if you do like them-then you've found a new way to clean, as well as a new way to save money.
For all you who are wondering-it took a while-but my girls finally did out grow the floor licking thing.
————–
I hope you enjoyed my old guest post. All of it's true-and I still use vinegar to clean with today. I mix it with water and put it in a spray bottle to use on my mirrors, counters, bathroom fixtures-and I still add vinegar to my mop water. Over the years I stopped adding essential oil to the mix-I suppose I began to associate the smell of vinegar with the smell of clean.
Tipper