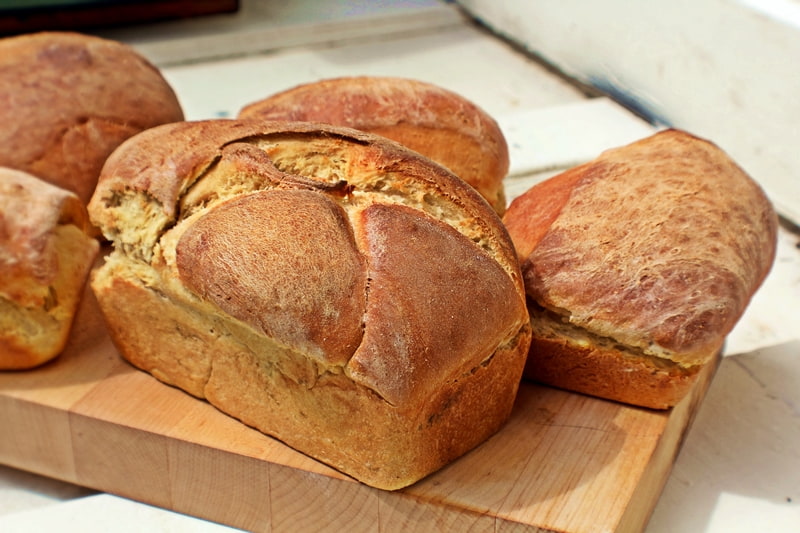 We got bologna, cheese, "light bread" and sody (soda) crackers at our stores. And, I have had bologna and cheese sandwiches. But mostly, we made our own bread, and my mother could make wonderful loaves of "yeast" bread. Such a wonderful smell emanated from the kitchen some afternoons when my younger brother and I walked the mile-plus from Choestoe School (a two-teacher excellent country school) in our neighborhood. My older brother, Eugene, and my older sister, Louise, were older than Bluford and I, and they were already in high school, riding the school bus, catching it at the "Morris Ford" over the Notla River and on the highway from us. But Choestoe School was the greatest.
We had big snows in the wintertime, and we made snowmen that lasted long after the ground snow had melted, but we didn't think, I guess, to make an igloo. I wish I had been that creative.
Now let me ask you one: Did your daddy ever make you a "french harp" somehow out of two or three pieces of wood put together in the right way, with the center piece being "cut out" somewhat like the real "french harp." We kids were fascinated with his real French Harp–and his Accordion, which he played, and we always were pestering him to "make music" for us, or else let us play on the instruments. So he made us our own French Harps! I'm not sure they really made music, but we hummed and blew, pretending we were making music as our Daddy did!
One thing you can say about Appalachian Folks: They are creative, inventive, and hard-working–and extremely family oriented. We worked a "big" farm for a mountain farm, had all we needed and to sell 'way down at the Gainesville Farmers" Market, and later to the Atlanta Farmers' Market.
My Daddy was the sorghum syrup maker for Choestoe farmers (and others, farther away), making about 3,000 gallons every fall from "Blue Ribbon" sorghum cane. We had large patches of cane on our farm, and much of our income came from the sale of this syrup. It was at least a six-week span in the fall, making syrup from our own cane, and that of others who hauled theirs in.
For many years Daddy powered his mill to grind the cane into juice with two sets of mules going round-and-round to turn the iron grinding rollers that juiced the cane. He would not work mules more than 4 hours at a time it was such grueling work for them. We had a cousin who lived with us during the weeks of syrup making. He was crippled from an accident to one leg, but he could sit on that stool and push the cane through those steel grinders. And at night, after the mill finally closed down, my younger brother Bluford and I knew we would hear one of Cecil Alexander's "travel tales" with which he delighted us. And, after my mother died when I was age 14, my father went before the school Board to get "hardship case" excusal for me to work at home during the six weeks of syrup making.
I did my lessons, because another dear cousin teacher at the high school brought my assignments in weekly batches by my house, and collected my homework, tests, projects and the like to take for my teachers to grade. I got counted present because I was officially excused, and did my work at home. When it came time for graduation in 1947, I had been chosen the "summa cum laude," graduate–except in high school we didn't use that term I had learned in Latin classes. But I was thrilled to make a commencement address, even though I had missed six crucial weeks every fall because of doing my part in cooking for 15 or more work hands and providing them a "southern farm" style home-cooked meal. None of them ever complained to the cook; they ate what I served them and thanked me afterward. And this is the story of "what I did" part of the time while I was growing up.
I think that life was good for me. I missed my mother terribly, and wanted so often to ask her how to do something or seek her advice about a situation. But through it all, I learned to be self-sufficient and to accept whatever work came my way and seek to do it to the best of my ability.
—Ethelene Dyer Jones
—-
I hope you enjoyed Ethelene's memories as much as I did!
Tipper
Subscribe for FREE and get a daily dose of Appalachia in your inbox